Natural Beauty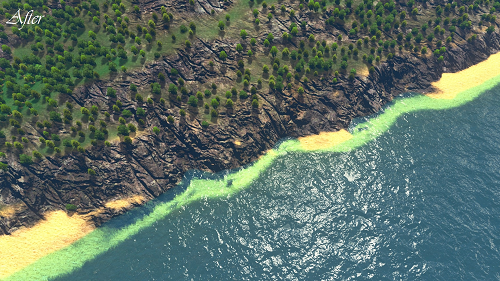 Author:
Turtle
Last revision:
19 Apr at 14:44 2016 UTC
Description:
Natural Beauty Map Theme V1 – Temperate Environment
One of my biggest gripe about this game is the textures. The cliffs and sand look too smooth, the water looks too brown/mucky and rail lines seem to sit on yellow rocks.
I didn't really give the theme editor much thought until I saw one of strictoaster's cities with lush grass and great looking cliffs. So for the past two days I've been messing around with the theme editor and my god is it a powerful tool or what! I quite liked how my theme looks so far so I thought I'd share it with you all.
The following changes were made from vanilla:
– Water: More dark blue for deep water and a lighter green/blue for shorewater and a normal for a more detailed look
– Cliff: Reused cliff texture made by Atys and replaced cliff normal for a more rougher look
– Sand: More realistic looking sand texture
– Grass: Darker green more textured grass
– Ruined: Reused ruined texture made by Strictoaster
– Road: More faded asphalt
– Gravel: More realistic grey gravel.
All textures/normals are available here:
http://imgur.com/a/egCsp
The map used for preview is called Spykerbrook by Zakerias, available at:
http://steamcommunity.com/sharedfiles/filedetails/?id=548061106
And ofcourse, please provide suggestions on how I can improve this theme.
Thanks guys,
Turtle