Wall Lanterns pack (2017 updated)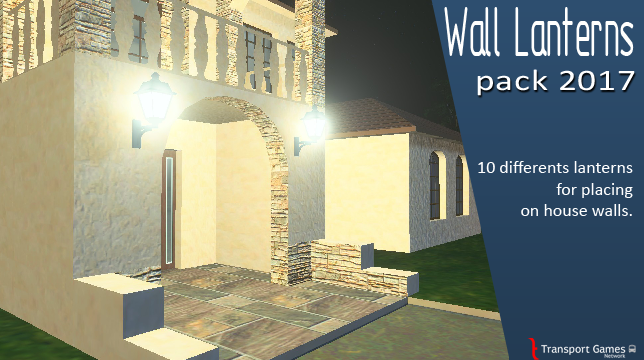 Author:
targa
Last revision:
24 Dec at 15:43 2017 UTC
Description:
10 differents lanterns for placing on house walls.
To gain access to this asset in-game, not only in the editor use More Beautification MOD.
To hang a lantern on the wall will need Prop Snapping (require Prop & Tree Anarchy for work).
In the asset editor these lanterns are in Common/Lights.
In-game lanterns are in Common.
Each lantern has a custom icon with the name.
Thanks to SonOfNitrous for him help in testing.
News of Russian-speaking community Cities: Skylines – on our page vKontakte: Cities: Skylines[vk.com]
May be Park Lightings Pack will be interesting for you.
The reference table below are the names of the main characteristics and lanterns silhouettes.
Name
Colors
Texture
Tris
Polygons
Image
white
128×128
176
94
white
128×128
156
96
white
128×128
214
113
white
128×128
242
134
white
640×256
178
100
warm white
128×128
162
89
white
128×128
262
138
white
128×128
256
134
yellow
128×128
128
69
warm white
128×128
128
69