Commercial L3 District Style by Luurt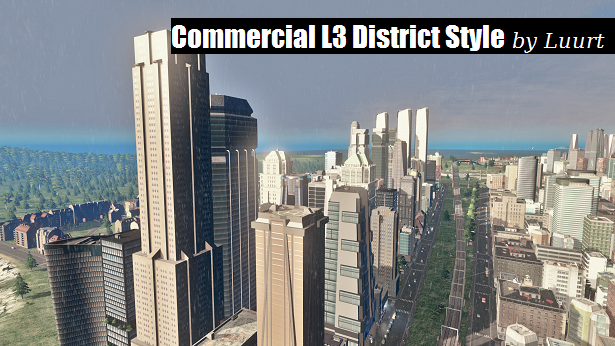 Author:
[NL]LUURT
Last revision:
17 Apr at 15:11 2016 UTC
Description:
This is a District style that only contains Level 3 high density commercial buildings, I chose to make this because most commercial districts level up to level 3 quite easilly but once at that level I felt that the amount of different buildings was to small to create a varied skyline. I dont promise to completely remedy this with this district style but its a step in the right direction.
I didnt make any of the assets, I just combined them into a district style using the styles tab in the content manager.
WARNING! Because there are only level 3 buildings in this district style you will need to use the Building Themes (Snowfall) mod, linked below.
http://steamcommunity.com/sharedfiles/filedetails/?id=466158459&searchtext=theme+manager
For me the theme manager seems to jumble up which building are in a district style so you might need to manually activate them once you're in the game.
Assets are from;
Quad Rioters 5 assets
http://steamcommunity.com/profiles/76561197985501663/myworkshopfiles/?appid=255710
ZED68 2 assets
http://steamcommunity.com/profiles/76561198216529252/myworkshopfiles/?appid=255710
Gula
http://steamcommunity.com/sharedfiles/filedetails/?id=539537929
Kliekie
http://steamcommunity.com/sharedfiles/filedetails/?id=662469776&searchtext=kliekie
Darf
http://steamcommunity.com/sharedfiles/filedetails/?id=536187502
Bartz!
http://steamcommunity.com/sharedfiles/filedetails/?id=566982375
naskko26
http://steamcommunity.com/sharedfiles/filedetails/?id=609519217
koodoo25
http://steamcommunity.com/sharedfiles/filedetails/?id=525107072
rtgstream
http://steamcommunity.com/sharedfiles/filedetails/?id=576800435
Please report any issues and dont forget to like the assets