Network Extensions 2 (Updated for Sunset Harbor)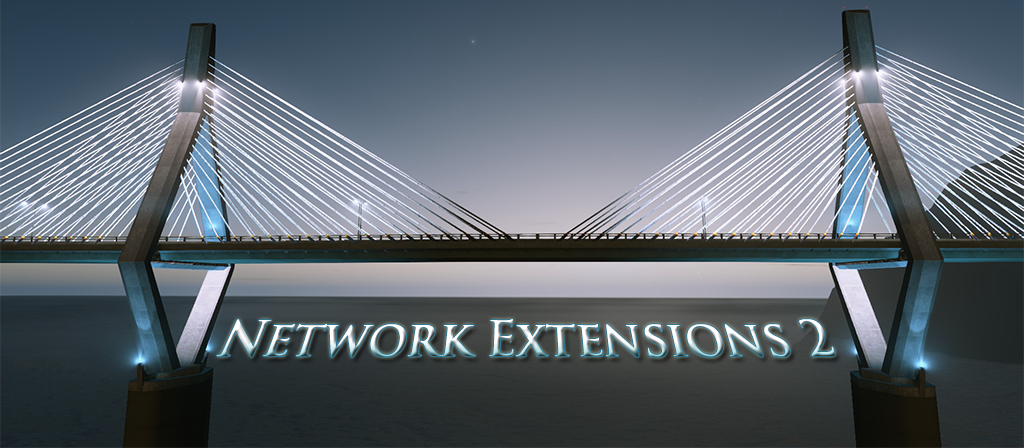 Description:
Attention 8/24/2018
I have been monitoring your responses to the Future of New Roads for Network Extensions 2[community.simtropolis.com] poll over the past 1 year and 9 months and 14 days (6/23/2018 – 4/6/2020) and based on your overall responses I have chosen to roll in that mod's roads into this mod. There is a lot of work to do to get these roads up to snuff (many are broken or incomplete). I am about 50% complete with the integration process but have been recently diverted. I will try to have it done and out ASAP. I do appreciate your patience and feedback.
About
This is a place for development to continue. You must unsubscribe from Network Extensions Project before subscribing here (do not just disable it). This mod has all the goodies from Network Extensions Project with some additional fixes and enhancements. Until further notice, I plan to put all future upgrades here.
What's new
6/20/2018:
-Fixed Mod Menu
-Added back missing roads One Way Road with Bicycle Lanes and Cul De Sac (disabled for now)
5/24/2018:
-Fixed zoning issue
-Fixed elevated/bridge misalignment for 2L 2 way national road
-Fixed stretching textures on certain elevated roads
10/22/2017:
-Fixed highway streetlights not showing up
10/19/2017:
-6L Avenue with median
-1+2 Asymmetrical National Road
-2+2 National Road
6/30/2017:
-Fixed asymmetrical road direction switching
3/1/2017:
-Performance update (Reduce load times)
2/21/2017:
–Fixed Mod Options….yeah…no.
-Added Small road with median (striped, concrete, grass, trees)
-Added trees back to promenade
For a full listing of updates, click on the Change Notes tab toward the top.
Current Stuff
Future Stuff
-Rework and integrate New Roads For Network Extensions (that mod is now broken)
-Road customizations menu and bridge selection
-Fix Ped Road vehicle restrictions (longer term…lots of work)
-4+3 and 5+3 asymmetrical avenues
-Cul De Sacs (?)
-Divided highways (?)
–More tram road options I have decided to make a new mod for this as eventually it is going to copy a lot of the same roads…but with tram. This mod is huge and there is much more to add. Stay tuned 😉
Source
github[github.com]
Donate
paypal[paypal.me]
Troubleshooting
Follow These steps if you believe this mod is causing you problems:
Open Content Manager and go to the Mods Panel, disable all except "Network Extensions 2"
In Content Manager, go to the Asset Panel and disable all except the assets listed in the "Required Assets List" under the Discussions tab on this workshop page.
Quit to Desktop
Launch the game
Start a new game 100% vanilla – DLC allowed but no other mods other than specified.
test thoroughly the mod to see if it presents the same problem (yes you may have to play and build a quick test city to do so)
If the problem still persists, please upload the same vanilla save file you tested in making sure you have not used any other custom assets (so they don't disappear when I load it) and paste a link to the savegame in the discussion thread "Troubleshooting Savegames". Savefiles uploaded on third party servers will not be accepted.
If you do not complete these steps and submit a savegame we cannot help you and any comment requesting help will be deleted.
Download
Revisions:
Old revisions of this mod are available below. Click the link to download.