Improved Content Manager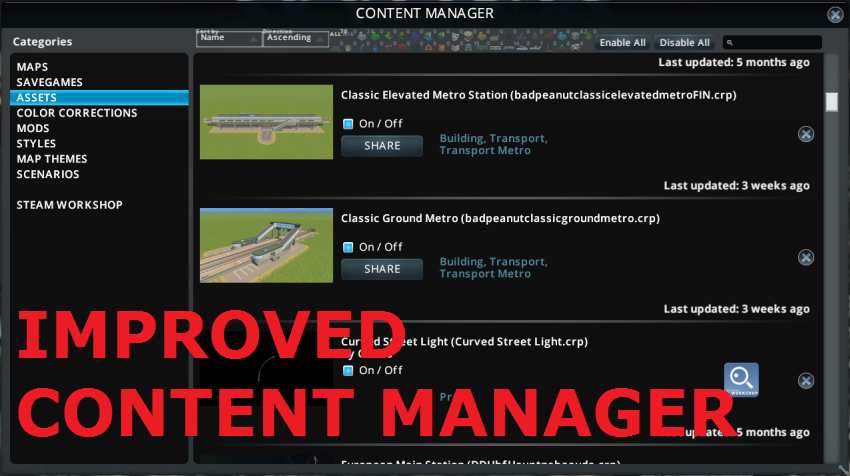 Description:
Updated for C:S 1.8 a.k.a Concerts DLC
Enhanced mods and assets panels
This mod replaces two existing mods: Improved Assets Panel and Improved Mods Panel. It's compatible with all other mods as far as I know (including Less Steam by @thale5 which I highly recommend).
Colossal Order completely rewrote Content Manager in version 1.6.0 and I had to rewrite the mod almost from scratch, hence the merge of the two mods.
At this moment if features the following:
– Mods and assets are sorted by name by default
– Ascending/descending sorting for mods and assets
– Additional sorting modes: by active state, by subscribe date, by update date, by location
– Assets sorting (asc./desc.)
– Assets filtering by Steam tag
– Assets counters
– 'Enable All' and 'Disable All' buttons are now applied only to currently filtered assets/mods
Possible future features (no ETA ATM):
– Additional sorting modes for all Content Manager tabs (map themes, saves, etc.)
– Compact mods panel layout
– Compact assets panel layout
– Unsubscribe All buttons for mods and assets
– Hiding of assets that come with mods (like NExt road pillars)
Latest update:
UPDATE 5 (8/17/2017)
Fixed: Updated for C:S 1.8 a.k.a Concerts DLC
This mod uses awesome detours C# library[github.com] by cope. Without it, this mod would've been impossible to make.
Feel free to comment.
GitHub link[github.com]
Note: if you have any errors/exceptions, please, don't paste them or output_log.txt into comments. Use pastebin, dropbox or whatever.
If you like this mod and/or want to support me you can donate here:

[www.paypal.com]
You don't have a PayPal account? You can use link in 'Don't have a PayPal account?' section at the bottom of donation page to donate using your credit card information.