Wind pump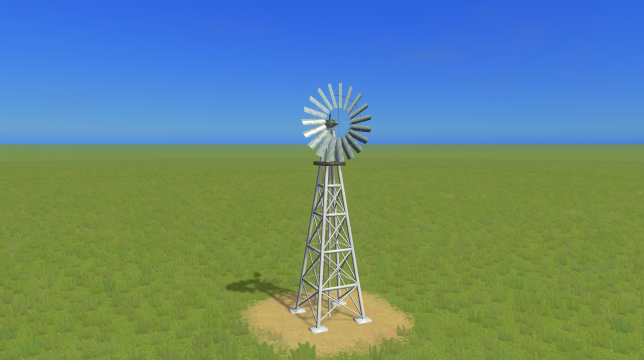 Download
Steam Workshop ID:
795481356
By:
Franks
Workshop Link
|
UPD:
7 Nov @ 8:38am
Hello community...
Just I've give it a chance for this game and I'm loving it... And, because I'm a 3d modeler, Obviously I needed to start making assets... This is my first, a simple wind pump, so you can have some water without the needs for electricity...
I'll be doing more assets in the near future, so, if you have ideas, or you want to do some request, feel free to do it!...
See ya!
Building properties:
* Electricity consumption: 0
* Construction cost: 2500
* Fire Hazard: 0
* Fire tolerance: 20
* Garbage accumulation: 0
* Maintenance cost: 1000
* Noise accumulation: 20
* Noise radius: 15
* Outlet pollution: 100
* Water intake: 3000
This properties are very similar to the water tower...
Asset techincal details:
Tris: 1890
LOD tris: 590
Diffuse, Normal and Specular textures 1024*1024px, LOD textures 128*128px