Breakwaters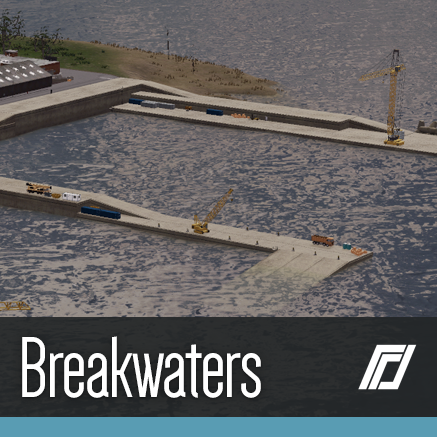 Author:
Ronyx69
Last revision:
22 Dec at 18:29 2016 UTC
Description:
!!! There is a glowing edge LOD issue, no idea why, found out at the last moment, too lazy to fix it. Maybe one day.
Three types of breakwaters and a ramp prop.
Found in transportation ship and industrial props menus.
You can change the height with move it.
Grid:
Main: 1036 tris
1024×512 (diffuse, normal, specular, color)
LOD: 56 tris
64×64 (diffuse, specular, color)
Plain:
Main: 248 tris
1024×512 (diffuse, normal, specular, color)
LOD: 10 tris
64×64 (diffuse, specular, color)
Edge:
Main: 400 tris
1024×512 (diffuse, normal, specular, color)
LOD: 20 tris
64×64 (diffuse, specular, color)
Ramp:
Main: 46 tris
1024×512 (diffuse, normal, specular, color)
LOD: 10 tris
64×64 (diffuse, specular, color)
Required Mods:
More Beautification to access the prop menu:
http://steamcommunity.com/sharedfiles/filedetails/?id=505480567
Recommended Mods:
Move It! for adjusting the height and placement:
http://steamcommunity.com/sharedfiles/filedetails/?id=766190099
Prop Snapping for putting props on the breakwaters:
http://steamcommunity.com/sharedfiles/filedetails/?id=787611845
Asset Creation Video:
https://www.youtube.com/watch?v=qjUyeUQ80S8