Small 2-storey kindergarten for 100 children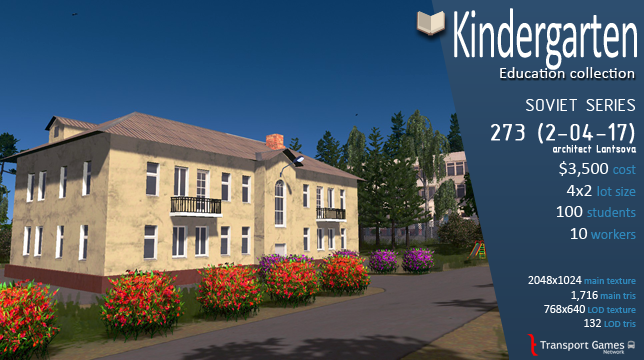 Author:
targa
Last revision:
17 Dec at 13:50 2016 UTC
Description:
Two-storey kindergarten for 100 children (in game Elementary School, student capacity: 100).
Typical project 273 (2-04-17). Architect Lantsova.
The version "only building" – without the territory surrounding a kindergarten.
The walls are painted in one of four colors – light pink, light yellow, light green, light blue.
For design of the territory of kindergarten you can use assets from the Playground Equipment collection.
Game info
elementary school
4×2 lot size
100 stidents
3500$ cost
custom icon in toolbar (with main asset parameters)
Main model
1,716 tris
2048×1024 texture (_d, _s, _n, _i, _c)
LOD model
Thanks to Gennady Borisov and Alexandra Filatova for their help in testing.
For work of wall lamps requires Wall Lanterns pack.
For it is necessary Network Skins, otherwise lamps won't shine.
News of Russian-speaking community Cities: Skylines – on our page vKontakte: Cities: Skylines[vk.com]
You see detail characteristics in the table in the table below:
Electricity
Electricity Comsumption
10
Gameplay common
Construction Cost
$3,500
Fire Hazard
1
Fire Tolerance
6
Garbage Accumulation
2
Maintenance Cost
300
Water
Water Accumulation
5
Water Comsumption
5
Workers
Uneducated Workers
5
Educated Workers
4
Well Educated Workers
1
Highly Educated Workers
0
Education
Education Accumulation
35
Education Radius
200
Student Count
100