Subway Restaurant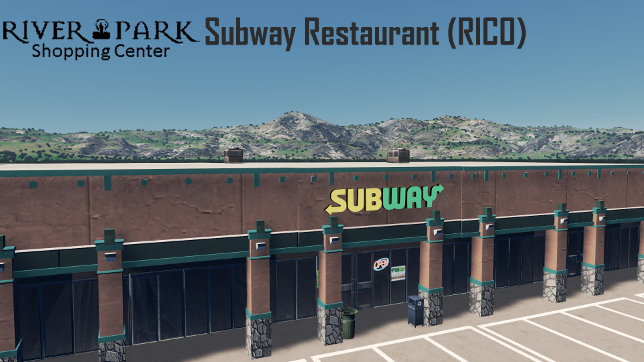 Author:
Cristolisto
Last revision:
11 May at 01:55 2017 UTC
Description:
Part of the Riverpark Shopping Center Volume two: New year 2017.
A new year means a new logo for Subway. Well actually Subway introduced their new logo in 2016 but 2017 will be the year it will get more exposure through stores and ads. To plan for this, I made this Subway asset with the new logo. Future proofing, I guess! Subway is the largest restaurant chain in the world and is headquartered in Milford, Connecticut. Remember, if your sandwich tastes bad, it's probably your fault! You probably picked a weird combination of items.
Update: Now includes sign prop. Found in the Billboards tab when using More Beautification mod. If you have a search mod just search "Riverpark."
RICO Enabled
Size: 1×4
Level 2 Commercial
Custom LOD
by Cristolisto