Police Headquarters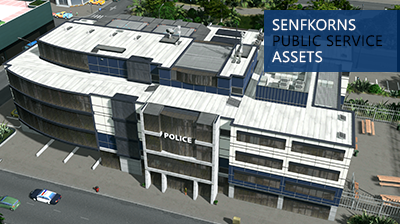 Download
Steam Workshop ID:
839022950
By:
Senfkorn
Workshop Link
|
UPD:
10 Jan @ 10:28am
Hi community,
order the brand new police headquarters, including much more comfortable workplaces, improved spy technologies, two heli pads and a close partnership with the best donut store intown.
This asset comes without compound, parking lots and foliage (as seen in the screenshots).
Have fun!
If you like my assets, I'd appreciate a little donation (paypal), also in view of all upcoming stuff. Thank you very much.
[www.paypal.com]
Asset in-game info
Type of building: Police Department
Settings: same as the vanilla game police department
Size: 8x5
Asset info
Tris: 4670
Texture size: 2048x1024
Texture types: diffuse, alpha, specular, illumination & normal map
LOD info
Tris: 162
Texture size: 256x256
Texture types: diffuse, specular & illumination map
Notes
Screenshots were taken by using
Realistic LUT V1.2
combined with
Daylight Classic
mod. But all assets I made were adjusted for the vanilla game colour settings.