Wooden Barn [3×3]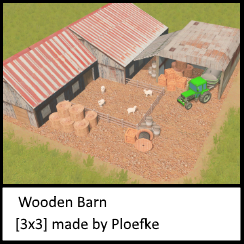 Author:
Ploefke
Last revision:
4 Dec at 15:44 2016 UTC
Description:
This is Wooden Barn made by Ploefke. It is a typical old and neglected barn. I've updated this asset to make the asset slightly darker and remove the wrong props and the color variations.
STATS:
Farming lvl 2(processing)
3×3
Tris: 203
Includes a normal map, an illumination map, and a LOD with custom texture.
This is a replacement for my older barn: http://steamcommunity.com/sharedfiles/filedetails/?id=786504333