Spectral Evaporator [Meta]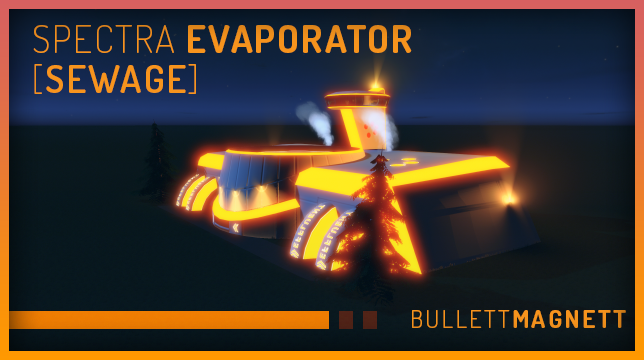 Description:
[bullettmagnett.tumblr.com]

[www.patreon.com]
Spectra Evaporator Meta [Water] by bullettMAGNETT
Leave feedback or let me know if something is wrong.
Info:
Tris 1080 / LOD 370
1024×1024 maps
Size: Large
Press Release:
"Spectra Technologies Inc.
Spectra Technologies proudly introduces a new technological advancement for the cities of today.
Ten times the water flow of the old water drain pipe, the brand new Spectra Evaporator, uses proprietary technology to rapidly clean effluent into pristine water. This building will be best for mega cities.
Because of the increase energy requirements, Spectra Technologies, recommends investing on the future Spectra Super Concentrator to meet your demands.
Current Stats v 1
Cost: 150000
Upkeep: 7680
Energy Use: 5760
Water Capacity 1,600,000
Noise: 35
Requires a river/coast.
Please Leave Feedback
and Rate if you like it 🙂
Happy Gaming and Enjoy! 🙂
Releases and other Stuff
https://twitter.com/bullettMAGNETT
bullettMAGNETT's Tumblr[bullettmagnett.tumblr.com]