Realistic Sky Colours Theme 1.0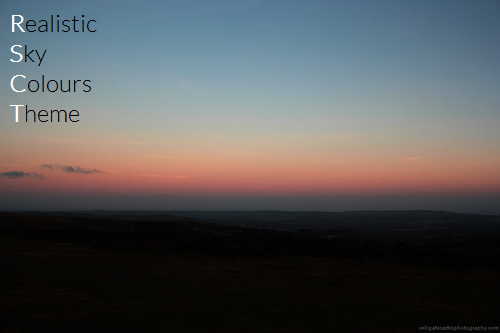 Author:
SDL StorM
Last revision:
12 Dec at 11:27 2016 UTC
Description:
The very first version of my realistic theme. What does it consist of ?
Well I just wanted to get the colours of the very known Venus Belt, which you can see when the sun rises and sets/ The colours are pure awesomeness, so I thought you guys could like to see it in the game.
I tested a lot of LUTs, and a lot of them fit well with the theme. Then it depends on your tastes.
However, be careful, I only changed the colours of the sky, which means there's no modification concerning the texture of the grass, of the cliffs, etc… So that's why I recommand to use the Theme Mixer Mod if you want to change more things than I changed within the Theme. Therefore, you can change the textures as much as you want, and you're not forced to play with the Vanila Texture, which I think is pretty good.
Last thing, USE DAYLIGHT CLASSIC MOD made by BloodyPenguin, otherwise you'll find a very red atmosphere and no realistic colours AT ALL.
I think that's all. I'll update it if you want, I'll try to improve it, but well I think that the basic version is actually good.
Give me feedbacks, It'll help in the improvement.
NOTE 1 : Remember that with the ingame colors it was really hard to get the colors in the theme. For the next days I'll try to go even further.
NOTE 2 : More photos, but I haven't got the day time one. Ut goes over 2MB so Steam can't upload it.
NOTE 3 : If you see that the .exe doesn't work, it's not theme's fault, you just have to wait a bit more, then you'll get into the game, so there's no issue with the theme.