Bs Funeral Home and Crematorium by HGscMentor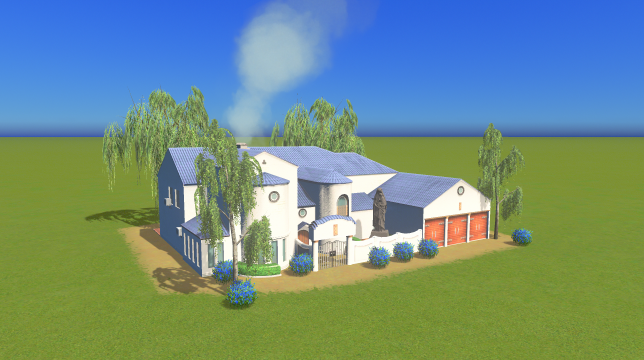 Author:
HGscMENTOR
Last revision:
5 Feb at 10:28 UTC
Description:
Bs Funeral Home and Crematorium by HGscMENTOR
HEADS-UP: IF YOU WANT AN AFTER-DARK VERSION OF THIS (LIGHTS AT NIGHT)
. PLEASE GO TO THIS VERSION
. http://steamcommunity.com/sharedfiles/filedetails/?id=860195071
Like so many funeral homes and crematoriums in small rural areas, this structure doubles as the home of the Funeral Director and his family. Their home stretches across a portion of the back of the facility, with the crematorium located in the basement. The front of the building (and some of the back) is taken up, on the left, with two very nice funeral parlors and on the right with administrative offices and a sales display lobby.
The Crematorium also employs a Certified Cremation Operation Specialist and her staff, Family Service Director, Advance Planning Specialist, and some office staff.
Although the funeral director keeps 2 hearses handy at the facility which he and his family operate when needed, he also contracts out to 20 Hearse Drivers and their assistants who supply their hearses and services as needed. Because the distances between huge farming homes and others living in small, scattered rural communities are sometimes great, these drivers and their vehicles often range far and wide on their routes, covering many more miles than metropolitan drivers do.
Since the Funeral Home is a family owned and run business, it pays no homage (or maintenance fees) to the city other than the occasional licensing fees for its staff.
PROPERTIES FOR Bs Funeral Home and Crematorium
4×4 footprint
BUILDING GENERAL:
***Use Color Variations: Yes
***Availability: All
***Circular: No
***Expand front yard: Yes
***Flatten Terrain: Yes
ELECTRICITY:
*** Electricity Consumption: 10 (30 vanilla)
GAMEPLAY COMMON
*** Construction Cost: 1,000 (vs. original cost of 10,000) (25K vanilla)
*** Fire Hazard: 0
*** Fire Tolerance: 100
*** Garbage Accumulation: 10 (6 vanilla)
***Maintenance Cost: 10 (vs. original cost of 100) (4,500 vanilla)
WATER
***Sewage Accumulation: 10
*** Water Consumption: 10
WORKERS:
***Uneduccated Workers: 2 (9 vanilla)
*** Educated Workers: 52 (includes 22 drivers and their 22 assistants)
*** Well Educated Workers: 6 (includes staff of the cremation operation specialist)
*** Highly Educated Workers: 4
BURIAL RATE: 1,000
CORPSE CAPACITY: 10,000
DEATHCARE ACCUMULATION: 280
DEATHCARE RADIUS: 5,009
GRAVE COUNT: 0
HEARSE COUNT: 22
MATERIAL: Colors are light Blue roof
0
2.9
3.4
2.9 floor count
HEARTFELT ACKNOWLEDGEMENTS OF CONTRIBUTIONS TO THIS ASSET:
I want to give my appreciation to Mr. Maison, Breeze, and Niis-Ku, whose beautiful trees, flowers, and Madonna Statue made this facility so pleasing to the eye.
I'd also like to thank my mentor, Populous, who has finally acquiesed to having his name made public, for teaching me how to create these assets. Without his endless patience (and that of his wife) I would still be subscribing to other modder's works and revising them to suit my game. Making them from scratch is ever so much more fun, especially when there are people there to help you at every step of the way. So "Thank You, Mr. and Mrs. P," soooooo much.