Nonstop Bus Terminal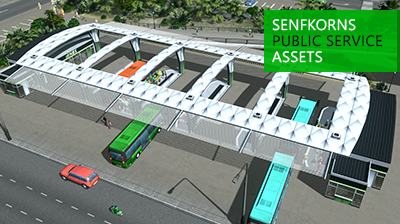 Author:
Senfkorn
Last revision:
9 Jun at 14:39 2017 UTC
Description:
Hi community,
welcome to the Nonstop Bus Services.
Before making a bus terminal, I wanted to realize two things. Firstly to make a bus terminal, that is smaller than the vanilla one. I like it very much but it is way too big. Secondly there should exist more exits for busses leaving the terminal. I think it worked. You can try out different methods to place it in your city. Take a look at the screenshots.
Have fun!
If you like my assets, I'd appreciate a little donation (paypal), also in view of all upcoming stuff. Thank you very much.
[www.paypal.com]
Updates
• added new bus paths, so "Cannot Find Path Error" should be fixed.
• Fire Tolerance fixed from 10 to 20. 10 was too low.
Asset in-game info
Type of building: Transport Bus, Bus Terminal
Asset properties (vanilla)
Size: 8×4 (16×8)
Construction Cost: 12000 (65000)
Maintenance Cost: 400 (1200)
Electricity Consumption: 30 (50)
Fire Hazard: 1 (1)
Fire Tolerance: 20 (20)
Garbage Accumulation: 4 (8)
Sewage Accumulation: 20 (20)
Water Consumption: 20 (20)
Uneducated Workers: 2 (12)
Educated Workers: 4 (27)
Well Educated Workers: 4 (27)
Highly Educated Workers: 0 (6)
Noise Accumulation: 40 (75)
Noise Radius: 75 (100)
Asset info
Tris: 1806
Texture size: 1024×512
Texture types: diffuse, alpha, specular, illumination & normal map
LOD info
Tris: 248
Texture size: 256×256
Texture types: diffuse, alpha, specular & illumination map
Notes
Screenshots were taken by using Realistic LUT V1.2 combined with Daylight Classic mod. But all assets I made were adjusted for the vanilla game colour settings.