Old Paris commercial corner II 2*2-lvl2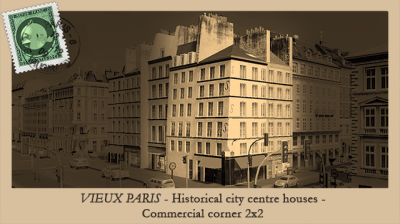 Author:
Zhubathan
Last revision:
22 Feb at 21:44 UTC
Description:
A street corner in the style of the historic center of Paris. Inspired by the houses of the neighbourhood of "le Marais". Some of these dates as far back as the seventeenth century.
Even though the real place harbours both commercial and housing, I release this mod as a dense commercial lot, partly because Le Marais is home to many fashionable high-profile boutiques.
A dense housing version will be released sometime soon 😉
ATTENTION : Though not mandatory, the Paris Chimneys prop has much to do with the "typical" character of the building. If you wish to save on the prop count, at least consider downloading this one with the building.
———–
Stats:
1550 tris
1 baguette
12 snails (may cause…sluggish performances 😀 )
———-