Fire Department 17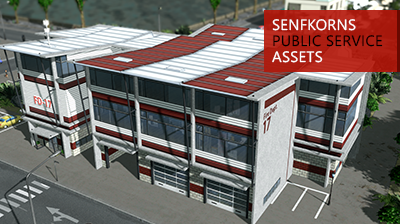 Author:
Senfkorn
Last revision:
7 Mar at 23:12 2017 UTC
Description:
Hi community,
here is it, the worst nightmare of all pyromaniacs: the new Fire Department 17.
Have fun!
If you like my assets, I'd appreciate a little donation (paypal), also in view of all upcoming stuff. Thank you very much.
[www.paypal.com]
Asset in-game info
Type of building: Fire Department
Asset properties
Size: 6×4
All other properties are exactly the same as the vanilla fire department
Asset info
Tris: 2636
Texture size: 1024×1024
Texture types: diffuse, specular, illumination & normal map
LOD info
Tris: 68
Texture size: 256×256
Texture types: diffuse, specular & illumination map
Notes
Screenshots were taken by using Realistic LUT V1.2 combined with Daylight Classic mod. But all assets I made were adjusted for the vanilla game colour settings.