Aegean Strait v.1.1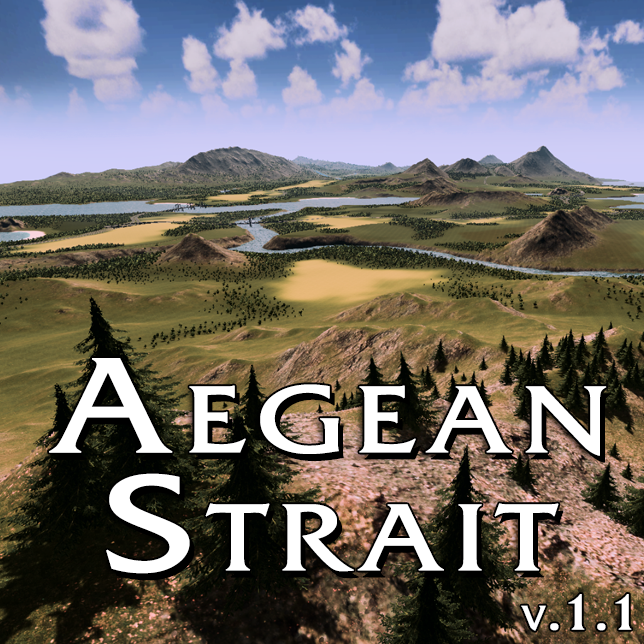 Author:
Khanador
Last revision:
4 Mar at 23:45 UTC
Description:
I have finally updated the map. First of all, ship line is now goung through the strait! I have also fixed a couple of minor issues with landscape like start tile flooding.
Aegean Strait is temperate map based on area around Chalkida, Greece but far from being 100% acurate. Map gives you many possibilities to plan and build your city on this scenic landscape located around narrow strait connecting two seas.
As this my first proper map I share on workshop please share any thoughts and give feedback and suggestions for the future 😀
Overview
Map may appear as hilly one, but in general there are many flat areas you can build on.
A few steep mountains and hills add variety and split map into smaller areas.
It is good for either large city or a few smaller ones.
Aegean Strait has lots of shoreline and beaches which gives you even more possibilities to plan what kind of city upi want to build. Would it be tourist / leisure oriented coastal resort or large, capital city with lots of industrial zones is up to you.
Features
– Optimised for 25 tile gameplay.
– 54% terrain suitable for building.
– All resources available, lots of them.
– Many trees but far from limit.
– All outside connections available.
– A few sandy beaches, mostly on the southern coast.
– Sea currents (water flows from north to south)
– Tiny bit of real life inspiration.
– A lot of patience and time spend in map editor 😉
Final notes
I strongly suggest using 81 tiles mod
Gula's Tall Grass is recommended, but not required.
Don't ask about LUT I used on screenshots. I do not remember. I suggest using Definite Vision LUT which looks good and pretty similar with my recently published Aegean Map Theme.
My other maps
North Bend – Boreal (new map)
Schwyz, Alpine Valley – European (new map)
Aegean Strait – Temperate (this map)
=== There is a plan to update the following ones when I have free time ===
Montserrat – Carribean – Tropical
Pohnpei Island – Pacific Ocean – Tropical
Donegal, Ireland – European
Carrow Cliffs – European