Macau SAR China – no mods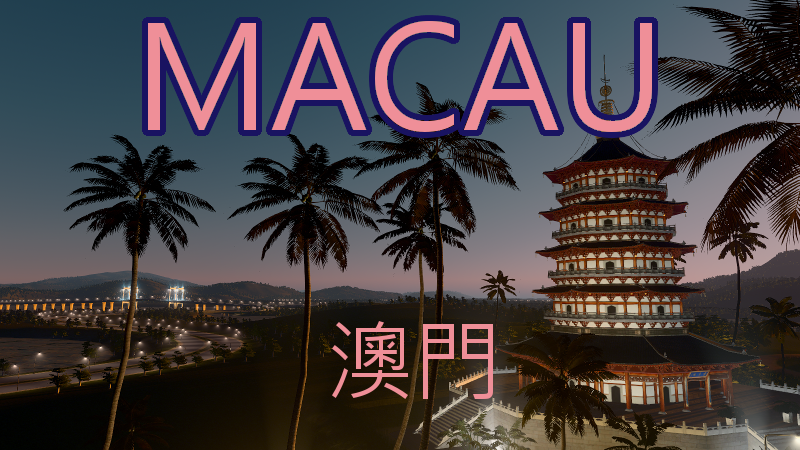 Author:
MrMiyagi
Last revision:
13 Mar at 12:28 2017 UTC
Description:
Macau / Macau Special Administrative Region of the People's Republic of China
OVERLAY IMAGES OF MACAU: I made Satellite and Road that you can use with Overlayer V2 Mod! Get the images here: http://imgur.com/a/zDz3l
Beautiful Leifeng Pagoda in cover shot by Emperor Li found here: http://steamcommunity.com/sharedfiles/filedetails/?id=814185907 Check out the Emperor's shop for tons of new exciting Chinese-themed items!
Although not independent entities like the rest of the Microstates Collection, the great interest in the unique SAR cities of Macao and Hong Kong make them worthy additions to the Microstates City Map Collection.
This map features:
– 4 of each type of transport connection
– Zhuhai Rail Terminal – all 4 rail connections end at Zhuhai (across the border in PR China), so a challenge you face from the start is creatively using this large terminus or finding a better way to design the connections that all end right at your border. Macao is currently building a light rail system that is planned to connect commuters with the Zhuhai terminal station, all the way to the airport on the other side of the territory.
– Hong Kong-Zhuhai-Macau Bridge & artificial islands – due for completion in late 2017, this construction is already finished in your map. This 50 km link consists of a series of bridges and tunnels crossing the Lingdingyang channel, that will connect Hong Kong, Macau and Zhuhai, three major cities on the Pearl River Delta in China.
– Lotus and Sai Van bridges included.
– Future Artificial Islands possible: shallow Pearl River Delta seafloor with oil resource: should you choose to expand Macao by constructing more artificial islands, See map for suggested areas. If you add land over a shipping lane, you will have ships driving through neighborhoods 😀 so be sure to check this image before terraforming.
– Not included on purpose: Sai Van Bridge and Amizade Bridge. You can choose to construct them, or add artificial islands where these real-life bridges stand.
– Ferry fun! This should be a fun map once ferries come out. Spread across many islands, Macao and Hong Kong have mazes of ferry and water taxi services
Macao drives on the left like Hong Kong. Like all maps, this map is made with default setting, so if you want left driving, be sure to select "drive on the left" when beginning your city.
WIKI Info: Macau (澳門; 澳门; Àomén; literally: "Bay Gate"), also spelled Macao, officially the Macao Special Administrative Region of the People's Republic of China, is an autonomous territory on the western side of the Pearl River Delta in East Asia. Macau is bordered by the city of Zhuhai in Mainland China to the north and the Pearl River Estuary to the east and south. Hong Kong lies about 64 kilometres (40 mi) to its east across the Delta.[4] With a population of 650,900[2] living in an area of 30.5 km2 (11.8 sq mi), it is the most densely populated region in the world.[a]
Macau was administered by the Portuguese Empire and its inheritor states from the mid-16th century until late 1999, when it constituted the last remaining European colony in Asia.[5][6] Portuguese traders first settled in Macau in the 1550s. In 1557, Macau was leased to Portugal from Ming China as a trading port. The Portuguese Empire administered the city under Chinese authority and sovereignty until 1887, when Macau, through a mutual agreement between the two countries, became a colony. Sovereignty over Macau was transferred back to China on 20 December 1999. The Joint Declaration on the Question of Macau and Macau Basic Law stipulate that Macau operate with a high degree of autonomy until at least 2049, fifty years after the transfer.[7]
Under the policy of "one country, two systems", the State Council of the People's Republic of China is responsible for military defense and foreign affairs while Macau maintains its own legal system, public security force, monetary system, customs policy, and immigration policy. Macau participates in international organizations and events that do not require members to possess national sovereignty.[7][8]
Macau is among the world's richest regions, and as of 2015 its GDP per capita by purchasing power parity is higher than that of any country in the world, according to the World Bank.[9] It became the world's largest gambling centre in 2006,[10] with the economy heavily dependent on gambling and tourism, as well as manufacturing. According to The World Factbook, Macau has the fourth highest life expectancy in the world.[11] Moreover, it is one of the regions in Asia with a "very high Human Development Index", ranking 18th in the world as of 2014.[3]
__________________________________________________________
To browse anything and everything China-related, check out Captain NO's China collection here: http://steamcommunity.com/sharedfiles/filedetails/?id=625370920