Evans Corner [2×4]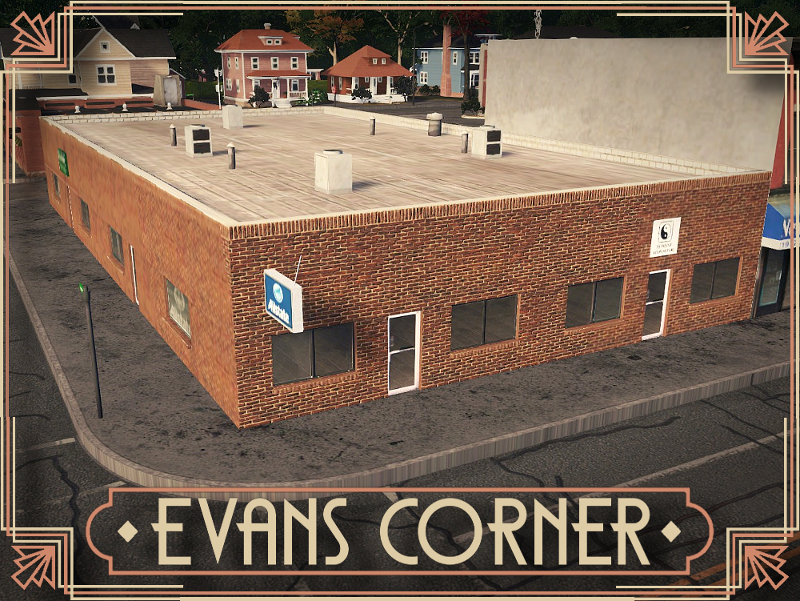 Author:
Exurbanite
Last revision:
15 Mar at 17:42 UTC
Description:
Description
A low-commercial corner building that adjoins the streetfront; designed to fit in seamlessly with 20th-century American storefronts. Perfect filler for Main Streets in smaller cities and towns.
Heavily inspired from a real building in Evanston, WY.
Evans Corner is my first ever asset and will lead my Main Street Americana collection, a collection of small storefront buildings based upon real-life examples of American 20th-century vernacular architecture. The goal is to allow players to create realistic historic districts, Main Streets and old-towns. Many, if not most, of the buildings in this collection would be classified as "filler" — but don't let that dissuade you from fully appreciating them!
Asset Info
Growable + RICO Ready (Thumbnail only)
2×4 Corner Plot
Low Commercial
Nightlights
Custom LOD
Very few props for maximum player customization
Model Info
Main Model
Tris: 397
512×1024 diffuse
Includes n, i, s maps
LOD
Tris: 73
256×512 diffuse
Includes i map
Simtropolis Thread: http://community.simtropolis.com/forums/topic/72457-exurbs-asset-creation-showcase-main-street-americana-collection/