Clarifier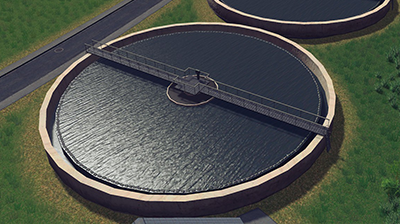 Author:
Avanya
Last revision:
17 Oct at 18:44 2017 UTC
Description:
Screenshots taken with Daylight Classic on
It's a clarifier – not much more to say about it. 😛 It isn't modelled after one specific clarifier, unlike most of my buildings in this collection. It creates noise pollution and garbage to mimic the smell and sludge waste it creates. I've tried to balance the stats compared to the default buildings and made this one a little less cost-effective, however it doesn't create ground pollution.
Update 17/10 2017
I finally got around to removing the snow! I also darkend the water to a more realistic color.
Stats
Size: 5×5
Cost: 4000
Upkeep: 320/week
Noise pollution: 50
Electricity: 240 KW
Sewage pumping capacity: 112000 m3/week
Model
Tris: 1586
Texture: 1024
LOD
Tris: 121
Texture: 128
[www.patreon.com]
[www.paypal.me]
Copyright 2017 Samantha Olesen. This item is not authorized for posting on Steam, except under the Steam account named Avanya. If you have a good reason for another version to exist, then message me and we can talk.