Daylight Classic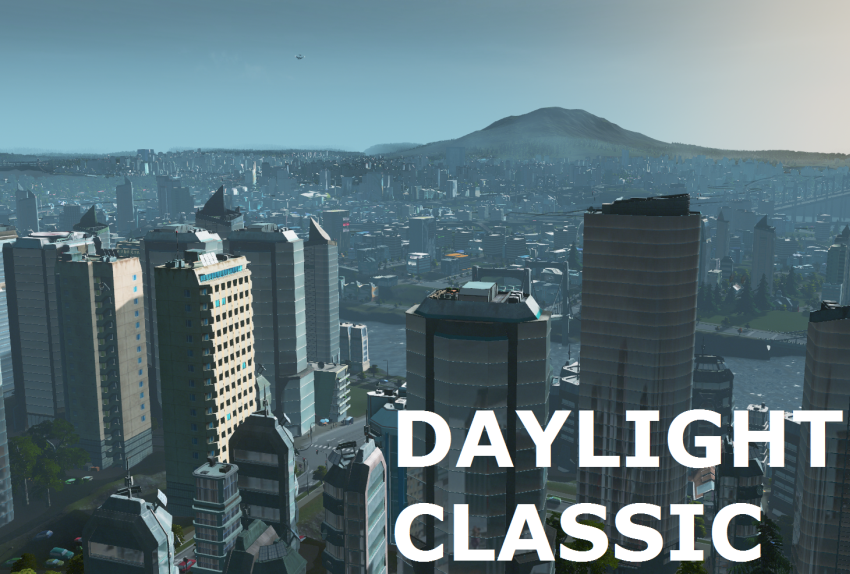 Description:
Brings back original daylight color and fog settings from pre-After Dark versions of C:S
IT'S A MOD, NOT A LUT! This mod doesn't require After Dark DLC!
Are you annoyed with that yellow tint that turns days into permanent evenings? Are you annoyed with your favorite LUTs not working after upgrade to C:S 1.2 (a.k.a After Dark)? Are you annoyed with over-saturation? Are you annoyed with bluish fog? Then this mod is for you.
It attempts to recreate original light conditions from better days. As side effect, this mod makes night slightly brighter.
If you're annoyed with new fog/clouds effect, you can use my Clouds & Fog Toggler mod. I highly recommend you to disable fog if you use play with Day/Night cycle enabled becuase fog effect that was introduced in After Darks has bluish tint.
What this mod does (with all options enabled – these features can be disabled individually):
– Changes sunlight intensity to pre-AD value. If you're a Time Warp user, you can adjust sun light intensity using that mod's options.
– Cahnges sunlight tint from yellowish to clear white.
– Replaces stock LUTs with LUTs from pre-AD
– Replaces fog & lighting effect with effect from pre-AD (much more beautiful and no bluish tint!) Also allows to customize skybox at daytime.
– Restores classic sun positions. If you're a Time Warp user, you can adjust Longitude/Latitude to your liking.
– Removes greenish tint from fog if AD fog effect is enabled (makes surises/sunsets less dramatic though).
– Provides options entry to enable/disable the above features
First 2 screenshots were made without LUT enabled in Boreal biome. On screenshot 5 you can see how this mod fixes Photoreal3 LUT. Screenshots 3 and 4 demonstrate the difference in Snowfall DLC's Winter environment.
GitHub repository[github.com]
Latest update:
UPDATE 11 (10/28/2017)
Fixed: Classic fog effect can now be used with enabled day/night cycle
Fixed: Fixed changing of latitude and longitude in European biome for classic fog effect
Feel free to comment.
You can find more of my mods in my workshop.
If you like this mod and/or want to support me you can donate here:

[www.paypal.com]
You don't have a PayPal account? You can use link in 'Don't have a PayPal account?' section at the bottom of donation page to donate using your credit card information.