County Airport Terminal Pack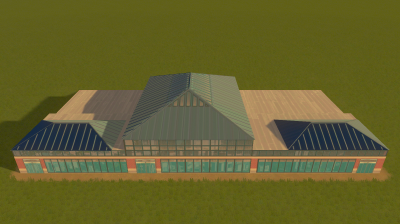 Author:
vasimr22
Last revision:
29 Nov at 00:57 2016 UTC
Description:
This is a pack of modular buildings that can be combined to form a small domestic airport (county scale). The overall models are low poly with around 320 Tris for all pieces combined (one of each), and some contain fewer Tri LOD meshes. All buildings share a common 512×512 texture, as well as a 64×64 LOD texture.
Note that these buildings are decoration only, however, the terminal does have a network path in it, so one could potentially add airplane stop assets near it and it would be functional.
The buildings included are:
– Main Terminal (road side plopable)
– Terminal Spoke (a ground level connecting segment)
– Terminal Node (a ground level "end cap" for the spokes with an exit door)
– Terminal Bridge (a pedestrian bridge for crossing the drop-off road)
– Terminal Bridge End (a tall end piece for the pedestrian bridge which would house an elevator and stairs)
– Terminal Bridge Middle (a shorter piece for the pedestrian bridge to go between drop-off roads – would also contain an elevator / stairs)
– Terminal Awning (an awning structure to be placed along side the drop-off road)
– Terminal Awning Node (a square shaped awning node to join multiple directions of awnings – i.e. a T or X intersection)
– Ground ERJ Jetbridge 1
– Ground ERJ Jetbridge 2
For a smaller looking airport than in the preview photos, the terminal nodes can be clipped into the main terminal building with the doors pointing outwards, with no other asset included.
A functional version of the main terminal has been uploaded here: http://steamcommunity.com/sharedfiles/filedetails/?id=826158821
There are a few bugs with these assets:
– The building lights do not always come on (the illumination texture was set to 255).
– There is a strange window reflection effect with the main terminal building.
– The pedestrian bridges are buildings which could not be moved with the move it tool, so I placed a place-holder quad at the z=0 point. This quad appears over the road and cannot be clipped under it.
If anyone knows how to fix those bugs, please let me know.