Ontario Hwy 407/7 (Barriers and Decal Lines are included)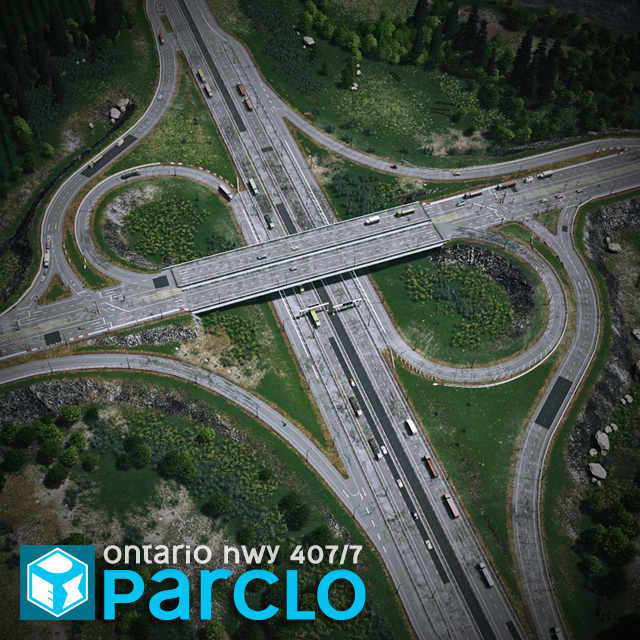 Description:
Ontario Hwy 407/7 by Dexter
Hi everyone,
here is a cool and realistic partial cloverleaf interchange.
This is a Solution for a highway exit/city entrance or
connection between Freeway/Rural Road and Highway.
The parclo can take much traffic but with Traffic Manager you can improve this intersection for heavy traffic.
Video:
Realistic Traffic Flow on a Parclo
Creating an Intersection Ontario Hwy 407/7
Note: For better placement make sure that the ground are flat enough and don't forget to activate the required mods!
Required Mods
Network Extensions 2
This intersection use some road types of this mod.
You will need this mod to use this intersection and load the savegame after placing.
Fine Road Tool
This mod is only needed for placing to get the correct bridge settings.
After placing you can load the savegame without this mod.
Required Mods only for the Road Barriers and Decal Lines
Prop & Tree Anarchy
Makes placing props everywhere possible.
Press Shift+P to enable the prop anarchy before you place the asset.
Prop Precision
Set the props in a clean line, you can enable or disable this mod every time.
Barriers and Decals used in this intersection
road barriers pack
Parking Lines (White)
– – – – – – – – – – – – – – – – – – – – – – – – – – – – – – – – – – – – – – – – – – – – – – – – – – – – – – – – – – – – – – – – – – – – – –
Optional Assets and Helpful Mods
Traffic Manager
Gives you the option to bring this intersection to the next level and
will handle with optimizations heavy traffic.
Surface Painter
To Paint the concrete textures and some more.
Prop Line Tool
Makes the line placing of props much easier(how to use: use the tutorial on the ws page).
Move It!
Makes all much easier, drag and drop everything you want.
More Beautification
Makes all props aviable in game.
Decal Prop Fix
This Mod makes decal props (created in bigger size) visibly and can enabled or disabled every time and changed nothing on the savegame.
Road Edit Collection
All i use to create my intersections.
Decal props to improve the intersection
Rectangular patched asphalt decals
Big Decal Dirt
Big Decal Skid Marks
Map Theme and Color Correction:
Cedar Valley 4K
Dark Green
Don't forget to rate and leave a comment if you like my work.
More of my creations:
Next Level of Road Design
LUT Collection
My favorite Interchange
My Artwork
enjoy!