Spanish Sound Pack v1.2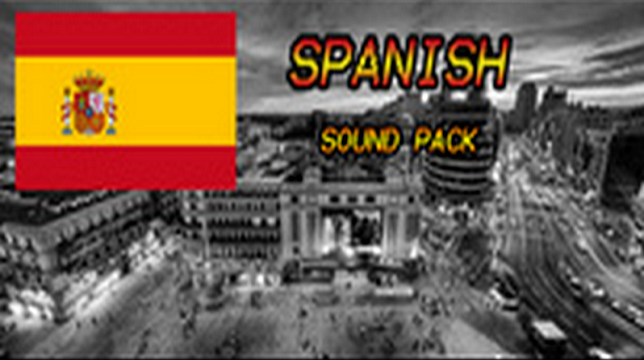 Description:
— ENGLISH —
Preview video in image / video section above.
Spanish Sound Pack containing new audio that will transform your city to a Spanish City, and the most important think (I guess) the siren´s for all emergency vehicles.
I have done a test to try to get the levels right but if u don´t like my levels you can have your own preference with the mod "Ambient Sounds Tuner v2.0" NECESARY TO RUN THIS MOD
How to use
You must to have the core mod Ambient Sounds Tuner, so download Ambient Sounds Tuner first and enable it in the game. Then subscribe to my sound pack and select it in the Ambient Sounds Tuner menu. If u don´t like any sound you can change it to the default sound in the Ambient Sounds Tuner menu.You can download other Sound Pack to combine with this.
Also watch my other mods
* Renault Megane II: Guardia Civil repaint (Spanish Police)
* Renault Megane II: Guardia Civil [PROP]
* DIA Sumermarket Truck
* Correos Truck
* Mercadona Supermarket Truck
I´m not English native, if I have any misspellings comment it please. TY 🙂
—————————————————————————————————————————–
— ESPAÑOL —
Vídeo con todos los sonidos arriba
Este paquete de sonidos españoles transformará tu ciudad a una ciudad españoles, y la cosa más importante (yo creo) contiene un paquete de sirenas de vehículos de emergencia españoles.
He echo unas pruebas y de dado con la configuración de volumen perfecta (para mi) Si no te gusta algo puedes configurarlo con el mod "Ambient Sounds Tuner" EL CUAL NECESARIO PARA CORRER MI MOD
Como usarlo
Necesitas tener el mod base Ambient Sounds Tuner, asi que descarga Ambient Sounds Tuner primero y activalo en el menú. Después subscribete a mi mod y activalo en el menu de Ambient Sounds Tuner . Si no te gusta algún sonido puedes cambiarlo en el menu del Ambient Sounds Tuner .Puedes descargar cualquier otro pack de sonidos para combinarlo con el mio.
Puedes ver mis otros mods
* Renault Megane II: Guardia Civil repaint (Spanish Police)
* Renault Megane II: Guardia Civil [PROP]
* DIA Sumermarket Truck
* Correos Truck
* Mercadona Supermarket Truck
Si te ha gustado el mod apoyalo 🙂