Advanced Vehicle Options (AVO)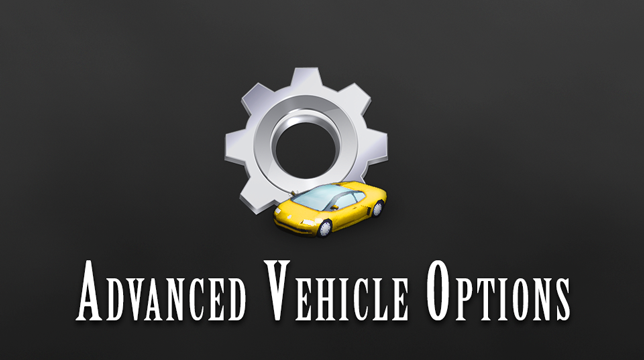 Author:
SamsamTS
Last revision:
28 May at 10:23 UTC
Description:
Compatible with Cities Skylines 1.7.0-f3 (Mass Transit)
This mod let you customize various options about vehicles.
To access those options simply click on the vehicle icon at the bottom right of your screen (next to the policy icon).
Mod options
– Hide the user interface: Lets you hide the UI completely if you feel like you are done with it and want to save the little bit of memory it takes. Everything will still be functional.
Vehicle options
– Max Speed: Lets you change the maximum speed of the vehicle. Please note that due how the game simulate the traffic, vehicles may not reach their maximum speed (ie. road speed limits).
– Acceleration/Brake: Lets you change how fast the vehicle accelerate/brake.
– Colors: Lets you change the color scheme for that particular vehicle type. When a vehicle spawn a random color is chosen between those 4 colors.
– Allow this vehicle to spawn: Pretty self explanatory. Be careful, disabling all vehicles of a particular service will prevent it to work as no vehicle will be able to spawn. Make sure you have at least one vehicle available for each category.
– Replace last car with engine: Allows you to make the last car of a train be an engine. The engine is automatically reversed. Now automatically applied to existing trains.
– Capacity: Lets you change the capacity of the vehicle. Note: bigger cargo/garbage capacity is not necessarily better. Cargo/Garbage collection needs to be dispatched across the map so the more vehicles you have the better, as long as the road network can handle the load. You don't want the capacity too low either as it will generate a lot more vehicles. Try to stay close to default vehicle values.
Other
– Reload: Restore the backup configuration file created when loading the game or using the Save button.
– Save: Save a backup of the current configuration.
– Remove vehicles: All existing vehicle instances of that type, driving or parked, will be removed. Hold Shift key to remove ALL vehicle types.
You might also want to check out my guide:
How to Replace default vehicles with custom ones
Configuration file
The configuration file can be found at
<SteamFolder>SteamAppscommonCities_SkylinesAdvancedVehicleOptions.xml
If you wish, it is possible to open and edit the file with a text editor (ie. notepad).
Compatibility
Other mods like Improved Public Transport, Transport Line Manager or Service Vehicle Selector can still spawn disabled vehicles. This is intended behavior because they offer greater spawning control. Use them to configure which vehicles you want to spawn instead.
Does not alter game save files in any way.
Can be disabled/removed at any time.
Known issues
None
Source Code
GitHub: https://github.com/SamsamTS/CS-AdvancedVehicleOptions
Thank you for:
★ rating this mod
✍ leaving your impressions below
☞ supporting me with a donation[www.samsamts.com]
THIS MOD IS NO LONGER WORKED ON. Asking for improvements/fixes/compatibility issues is pointless. I'll however make an effort to keep the mod working, if possible, with major updates of the game (I don't own any of the DLCs).