DHL Distribution v2 (AD)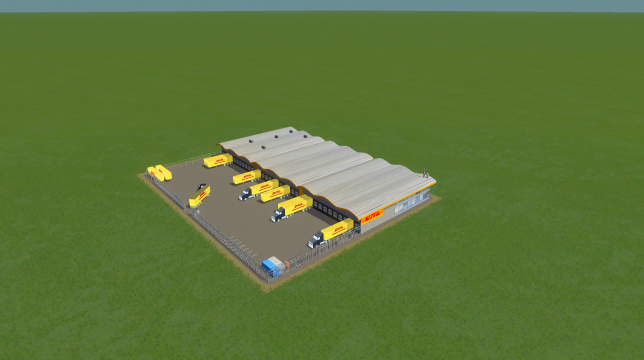 Author:
BaskB
Last revision:
13 Jun at 23:49 2016 UTC
Description:
DHL Distribution Centre v2 by BaskB
First off credit to rik4000 for the initial model he has created and that I've adapted for use here, pelase check out his great UK retail unit collection here:- http://steamcommunity.com/workshop/filedetails/?id=437236154
DHL Distribution centre, for those industrial estates of yours
Will appear under Level II of unique buildings.
This version has a secure fenced service yard and the road connection is on the Service yard size (as that would in reality need the traffic side).
Please check out the rest of the items in my collection.
Feedback always appreciated
**29/05/2015 – Updated LOD model to resolve texture bleed on zoom out**
Stats are below:-
Cost 50000
Fire Hazard 1
Fire Tolerance 20
GarbageAccumulation 10
Maintain cost 500
Electric 75
Noise =25
Noise radius 50
Pollution = 0
Sewage 25
WaterConsume 25
Educated Workers 15
HighlyEducated 10
Uneducated 50
WellEducated 5