Chirp X Launch Pad – Soyuz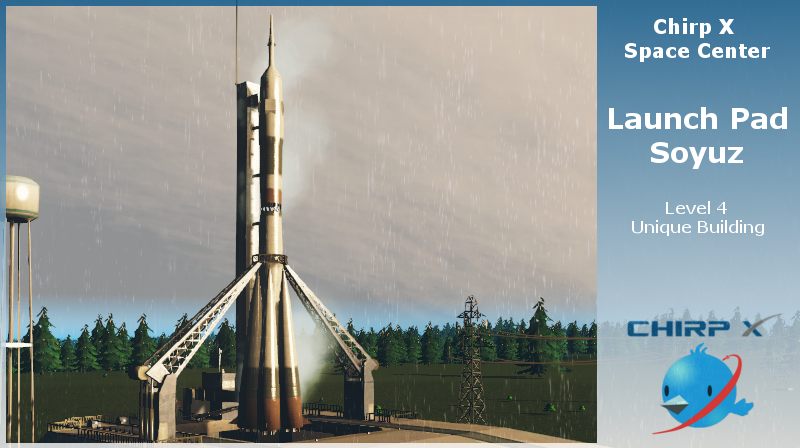 Author:
Ignus
Last revision:
5 Mar at 14:45 UTC
Description:
Launch pad for Chirp X Space center. Featuring the soviet/russian Soyuz rocket.
The Soyuz is part of the R7 rocket family. Were first designed in the 1950s in the Soviet Union as the first intercontinental ballistic missiles. Instead they ended up being used for space flight and were part of most of the soviets space race milestones, like the first artificial satellite or the first man in space. The latest variants are still in use today for both manned and unmanned missions.
Took many liberties with the launch pad, wanted to keep it true to the real world one but it meant that most of the rocket would be hidden so that makes little sense for this game. Still tried to keep a consistent design and hope you all like it!
Model Stats:
Main model: 5058 tris
Main textures: 2048×2048 D, N, S, I, A
Lod model: 542 tris
Lod textures: 512×512 D, I
Game Stats:
Level 4 Unique Building
Lot size: 7×15
Plop cost: 85000
Upkeep: 1600 /week
Does almost nothing, it's just for looks. Won't take tourists or workers. It is very noisy though. Can be placed anywhere on the ground. Comes with dirt roads (2 unit sepraration) to build crawlerways!!
Don't forget to rate, thanks!