3-storey Med Clinic (250 patients) OB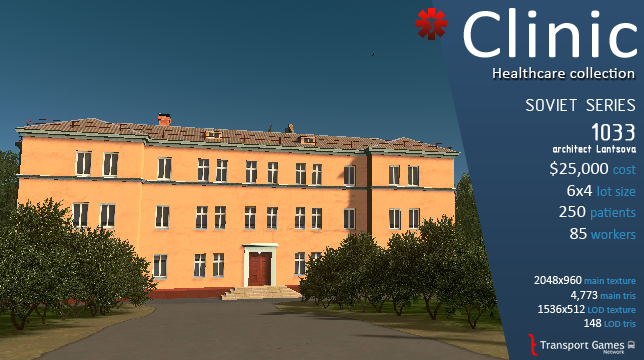 Author:
targa
Last revision:
15 Jul at 05:25 UTC
Description:
Three-storey med clinic for 400 (500) patients.
In game Med Clinic, patients capacity: 250.
The version "only building" – without the territory surrounding a clinic.
The walls are painted in one of four colors – light pink, yellow, light orange, light green.
Game info
med clinic
6×4 lot size
250 patients
$25,000 cost
custom icon in toolbar (with main asset parameters)
Main model
4,773 tris
2048×960 texture (_d, _s, _n, _i, _c)
LOD model
148 tris
1872×584 texture
For work of wall lamps requires Wall Lanterns pack.
For it is necessary Network Skins, otherwise lamps won't shine.
News of Russian-speaking community Cities: Skylines – on our page vKontakte: Cities: Skylines[vk.com]
You see detail characteristics in the table in the table below:
Electricity
Electricity Comsumption
100
Gameplay common
Construction Cost
$25,000
Fire Hazard
1
Fire Tolerance
10
Garbage Accumulation
25
Maintenance Cost
6000
Water
Water Accumulation
50
Water Comsumption
50
Workers
Uneducated Workers
25
Educated Workers
40
Well Educated Workers
15
Highly Educated Workers
5
Healthcare
Ambulance count
20
Curing rate
50
Healthcare Accumulation
250
Healthcare Radius
1200
Patient Capacity
250