First-person Auto-walking 1.0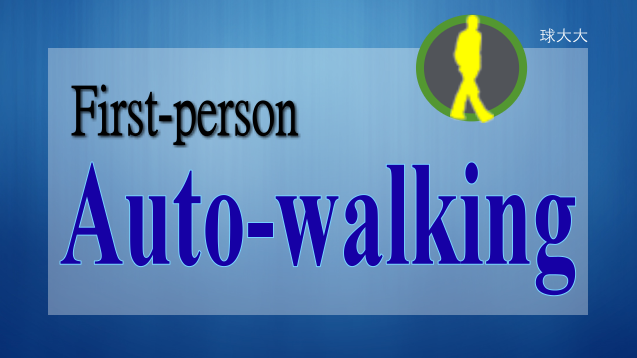 Author:
iinsnian
Last revision:
7 Jul at 17:49 2017 UTC
Description:
Is new version mod of first-person walk mode and citizen / vehicle follow mode.
WARNING: This mod is Incompatible with all other first-person camera mods.
such as: Enhanced Zoom / First-person camera.
You must be use this mod with all other FPS mods disabled before.
Tips:
auto-walking mode:
———————————————————–
To switch to first-person walking mode, press TAB.
right click to auto-walk. Scroll the mouse button to decrease or increase speed.
press left-shift to run, and left-ctrl to walk slow.
2016-04-08 added:
Hold left-mousedown to free rotate camera to keep moving forward when auto walking.
2016-04-28 added:
Be able to set Level of Detail of walking-mode, (Only in walking or following).
following mode:
———————————————————–
right down to free rotation camera;
press left-ctrl or left-shift. back to forward view.
Supported languages:
–> English
–> Chinese (simplified)
–> Chinese (traditional)
if you like this mode please rate it.
[www.paypal.com]
提供 英语 / 简体-繁体中文 语言版本。
这是一个第一人称视角的MOD。与其他不同的是,第一人称的视角感受比其他MOD更好。
还有一个特点是,你不需要始终按下 w 键去前行,你可以按下右键,自动前行。
贴示:
自动步行模式下:
按TAB进入,右键开启自动行走。
滚动鼠标中键,可以加速,减速前行。
可以自动调整方向。
按下左-Shift键快速行走,左-Ctrl键慢行。
04-08新增:
按着鼠标左键可以自由旋转视角,并保持继续前行。
4-28新增:
可以设置步行或跟随状态下的视角细节程度。(全局高细节,步行时低细节,可以大大提高帧数)
跟随模式下:
按下右键旋转视角。
按下 左-Ctrl 或 左-Shift键,回到前进方向的视角。