Griffith Observatory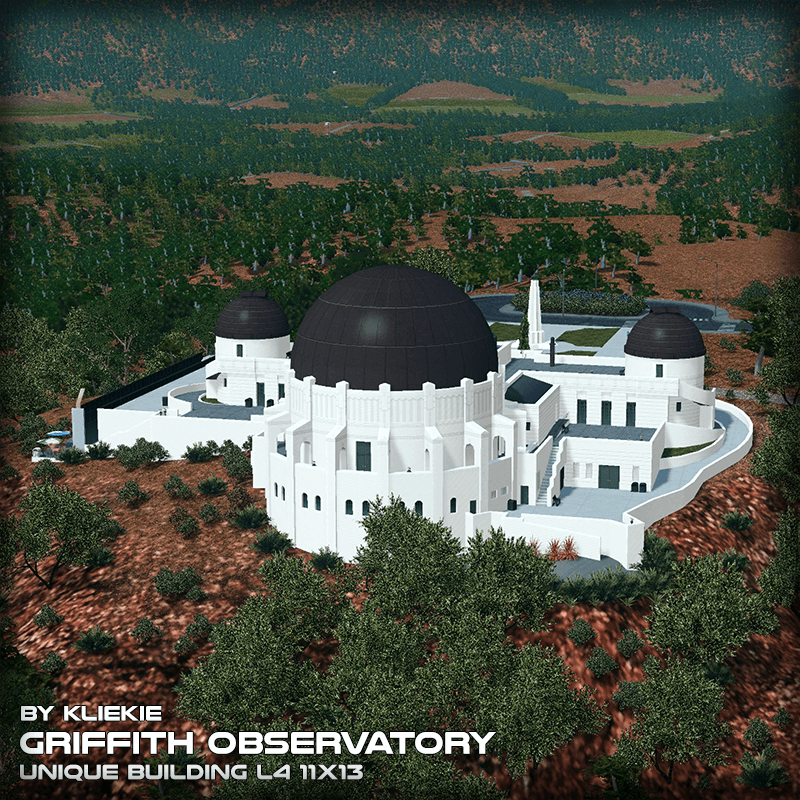 Description:
The Griffith Observatory
The Los Angeles park and landmark is perched above Mount Hollywood with a magnificent view of Downtown LA just south of Hollywood. She isn't too far from Hollywood as in addition to her commanding view; the Observatory has played host to many of our entertainment delights. List of credits include: 2PAC's To Live and Die in LA, MacGyver, MAFIA II, Rebel Without a Cause, Star Trek Voyager and The Terminator. The Observatory was completed in 1935 and officially received landmark status in 1976. The Observatory, which hosts several science and space exhibits has also become a romantic tourist attraction for many locals.
Terraforming the ground in-game is strongly recommended to get the back of the building showing as well as for creating the patio to The Café at the End of the Universe.[griffithobservatory.org]
All stats are balanced out for it's complete size and based on base-game buildings which can be seen on the last slide of this gallery. Credit for conception to BrowncoatTrekky. Credit for creation and implementation for Cities Skylines belongs to Kliekie. Additional thanks to our friends who received early access for testing and providing recommended themes and LUTs. All rights reserved to Kliekie as creator without exception for further public adaptations by any author.
Like my work? Please consider supporting me.
[www.patreon.com]
[www.paypal.com]