Foxwoods theater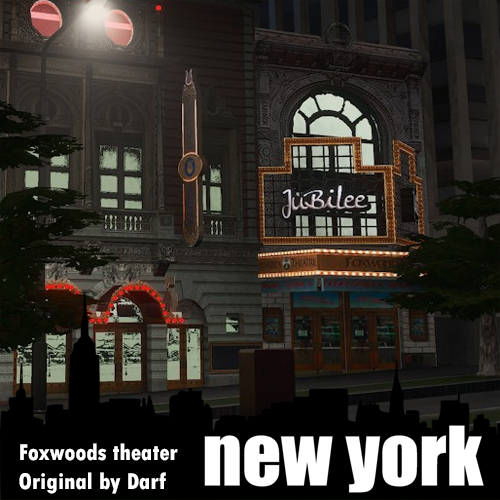 Author:
Darf
Last revision:
8 Mar at 18:04 2016 UTC
Description:
Please leave a vote if you download! This is a 3×1 Leisure growable.
About the model
This is a cutesk small theater, it's part of my 42nd street series. The facade gave me some headaches, because there are no clear pictures of it. So it's mainly photoshopped together. Model is very light, but has a very distinctive shape.
This model has about 570 tris and a 1024×512 texture, with a diffuse, shadow, normal, illumination and specularmap.This model has a custom LoD, which is about 36 tris with a 256×128 texture, with a diffuse, specular and illumination map.
About the building
This is based of the 43rd street facade of the Apollo theater.
The Apollo was built in 1920 by the Selwyn Brothers as one of a pair of theatres designed by Eugene De Rosa with a unified facade on West 42nd Street incorporating both theatres' entrances. The other, called the Times Square Theatre, occupied the rest of the 42nd Street frontage, while the Apollo was behind it, on 43rd Street. To the east of them stood the Lyric Theatre. The Apollo was initially a musical theatre venue for such works as the Gershwin musical Strike Up the Band and George White's Scandals. As in many other playhouses of the 1920s, movies often played the Apollo during its run as a "legitimate" house; in 1922, for example, Silver Wings, Around the World With Burton Holmes, and two D. W. Griffith films, Orphans of the Storm and One Exciting Night, had engagements.
By the early 1930s the Apollo had been turned into a film venue exclusively. It returned to serving as a theatre in the late 1970s, but this venture failed and the Apollo ended its existence as a night club. The building was neglected, fell into disrepair, and was condemned. In 1990 it was among the 42nd Street theatres repossessed by the City and State of New York and in 1992 came under the protection of the New 42nd Street organization. It was demolished in 1996.
Some of the theatre's architectural features, including the Proscenium arch, which were protected by landmark status, were removed and later incorporated into the Ford Center for the Performing Arts, now the Lyric Theatre, which was built on the sites of the Apollo and former Lyric.
Changes
– Wasn't happy with the window illumination, so I changed it to something more festive. Check the last result screenshot for the result.