Lindblum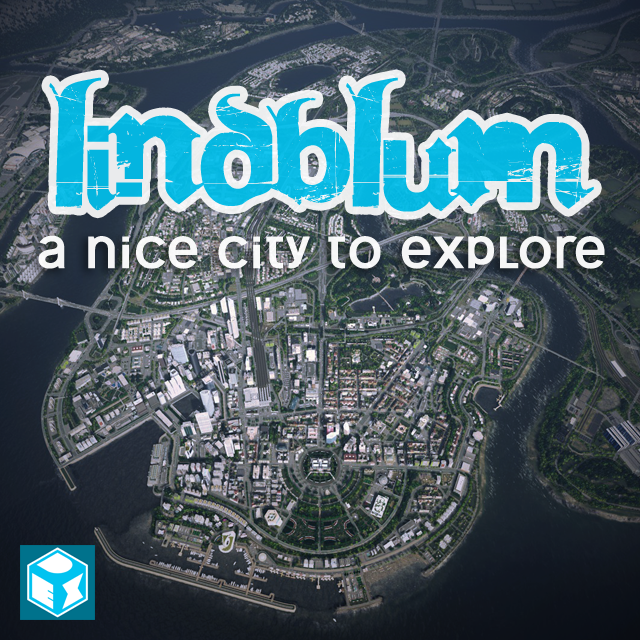 Author:
creativeDEX
Last revision:
11 Mar at 16:29 2017 UTC
Description:
Lindblum by Dexter
Hi everyone,
time to introduce my City Lindblum.
Lindblum is a realistic european city with classic city centers and modern expansions like the airport or the financial district. This city is build in one year and you can see the complete development process in the Spielerheim Forum[www.spielerheim.de].
Important things first:
Lindblum needs only 15 Mods and 520 Assets.
Required Mods and Assets
Lindblum – Mod Collection
All mods are required to load this savegame to avoid errors or problems.
Subscribe to this collection and activate all mods in the content manager(in game).
Lindblum Asset – Collection
All Assets you need for this city.
Videos:
Lindblum – Artificial Lake Region
Lindblum – Urban Region
Lindblum – Rural Region
Lindblum – International Airport
Features
-high realistic road networks and organic european road layout
-working interchanges and junctions
-impressive skyline and shoreline
-detailed parks, road systems, places, farm fields and many more
-interesting constructions everywhere
-big complexes: international airport, expo center, science campus, university campus,
wood cargo train station, stadium park, industrial harbor, many marinas,
artificial lake with a big dam, interesting big city center with circular shape and many more
Population: 110k – 130k
Bank Balance: 100Mio
——————————————————————————————————————————
Optional and helpful Mods
Mods for better graphics and look:
Clouds and Fog Toggle
No Radioactive Desert And More!
Adaptive Prop Visibility Distance
Sharp Textures
Dynamic Resolution (Fixed for 1.6)
Softer Shadows
Random Tree Rotation
Mods for build and better function:
Building Themes
I controled the growables in the european districts with this mod and choose the default euro theme. The configuration of this mod is saved separat and cant uploaded with the savegame.
IPT – Improved Public Transport 3.8.10
I optimized the transportation system with this mod. Without this optimizations the transport system can do some jams. The setting of this mod is a local file and cant uploaded with the savegame.
Road Edit Collection
A collection of all mods i use to create road layouts.
——————————————————————————————————————————
Thanks to the complete Cities: Skylines community for making those projects possible and special thanks to the Spielerheim Community[www.spielerheim.de] for motivates me every time if i share my content.
An end is every time a new beginning and i plan a new project next time and will share more development content on Youtube, more information about updates of my new project on Twitter.
Support me if you like:
Donate[www.paypal.com]