Semi desert theme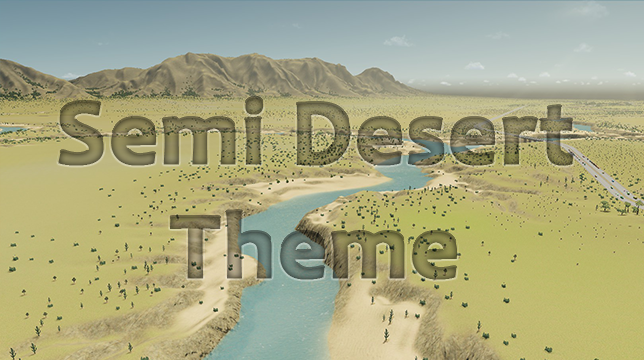 Author:
Avanya
Last revision:
5 Dec at 13:59 2016 UTC
Description:
Screenshots taken with Daylight Classic and Softer Shadows mods and the default tropical LUT
I've really missed this kind of dry desert theme in Skylines and decided to try my hand at it. Most textures are from www.textures.com and 1024×1024.
I recommend the Natural Color LUT or Cinematic HD LUT – see the 2nd picture for comparisons of custom and default LUT.
Update 22/10-16
I gave this a fairly large update as I just wasn't happy with it. The following textures were changed:
Cliff texture + normal
Sand texture + normal
Gravel
Pavement
Road
Water normal and foam
The cliff is a higher resolution and more true to the sandstone look – plus the old one had little bits of grass on it. 😉 The sand has nice waves and gives a better feel of a sandy desert. Gravel size is more realistic and a nice light color. Pavement and road is now light concrete/asphalt which is way more useful – tiles just don't look that good for larger paved areas like industry 😉 And lastly I finally got my hands on a good water normal and figured out how to get foam to show. 😀
Map used for screenshots: Arrowhead Junction