Mallemoer -Z- (European)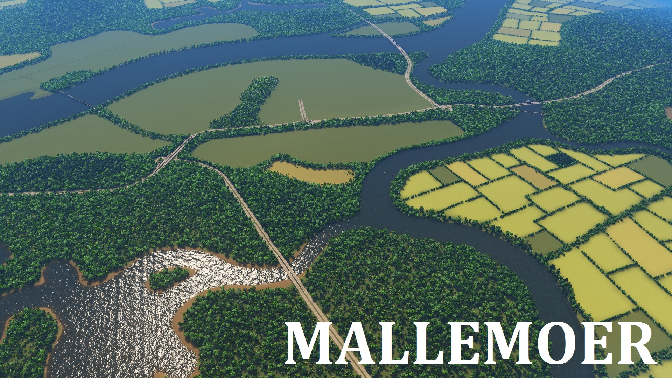 Author:
Zakerias
Last revision:
29 Dec at 22:44 2015 UTC
Description:
River Map: Mallemoer
UPDATE: I've managed to update this map. It no longer has an issue with airports, planes will now be able to land!
NOTE: There seems to be an issue with airplanes, they are not able to land everywhere causing airports to have no passengers.
This time not a coastal or an island map, but one with just a massive river in the middle. There is a ton of flat space in the centre, so building an airport should be easy.
Infrastructure
There are four highways and four railways. The big river has a ship route, but the smaller rivers don't. The intersections can be found in my Smooth Highway Collection, the one next to the starting area is a new addition.
Water
There are a lot of lakes on either side of the main river, plus a few smaller streams that connect to the main river. The water flow is very fast and should push any sewage of the map.
Resources
I've put several small fields of ore and oil, some in the hills, some along the river. The farmland can be found at the edges of the map.
Let me know if there are issues with this map or if you have suggestions in the comments. Have fun!
My Maps
Typical Dutch Landscapes
Drebbeldam (European)
Mondriaansland
Pierdoniadiel
Coastal
Kruyswick (European)
Baardmans Bay
Spykerbrook
Islands
Ambrose Island (European)
Teyland
Great Flutland
View the Main Collection
View the Classic Collection
View the Smooth Highway Collection