Bus Station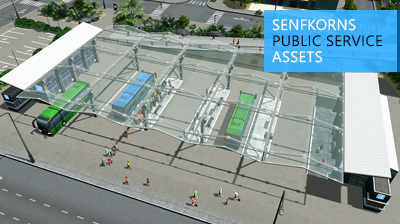 Author:
Senfkorn
Last revision:
9 Jun at 14:34 2017 UTC
Description:
Hi community,
actually I just wanted to try out how to use the rotor shader. And suddenly, a new asset was born 🙂
Have fun!
Special thanks go out to Ronyx69, who discovered the use of the rotor shader for asset creations. That offers completely new possibilities.
For those who are interested in a better appearance of assets with semi-transparent elements. TPB and Ronyx69 made a cool mod (Transparency LODs Fix + Cloud Assets Enabler) that fixes the issue of missing level-of-detail models for semi-transparent assets.
If you like my assets, I'd appreciate a little donation (paypal), also in view of all upcoming stuff. Thank you very much.
[www.paypal.com]
Updates
• added new bus paths, so "Cannot Find Path Error" should be fixed.
FAQ
1. I cannot find the bus station in-game. Where is it? I've subscribed to!
The Bus Terminal is a part of the After Dark DLC. You want to place Bus Terminals to your city? You'd better donwload After Dark! Get it on Steam.
2. I cannot add bus lines correctly or only on one platform, what's wrong?
To add bus lines correctly, the asset needs to be activated. When you place the bus station in pause mode, the asset has a grey color. That means the bus station is not activated yet (the game hasn't recogniced the bus station yet). When you run the simulation you can see the asset colour turns into blue. Now it was activated and you can add bus lines without any issues.
Asset in-game info
Type of building: Transport Bus, Bus Terminal
Asset properties (vanilla)
Size: 8×4 (16×8)
Construction Cost: 12000 (65000)
Maintenance Cost: 400 (1200)
Electricity Consumption: 30 (50)
Fire Hazard: 1 (1)
Fire Tolerance: 10 (20)
Garbage Accumulation: 4 (8)
Sewage Accumulation: 20 (20)
Water Consumption: 20 (20)
Uneducated Workers: 2 (12)
Educated Workers: 4 (27)
Well Educated Workers: 4 (27)
Highly Educated Workers: 0 (6)
Noise Accumulation: 40 (75)
Noise Radius: 75 (100)
Asset info
Tris main building: 2766
Texture size: 1024×512
Tris sub-building: 308
Texture size: 256×256
Texture types: diffuse, alpha, specular, illumination & normal map
LOD info
Tris: 172
Texture size: 256×256
Texture types: diffuse, alpha, specular & illumination map
Notes
Screenshots were taken by using Realistic LUT V1.2 combined with Daylight Classic mod. But all assets I made were adjusted for the vanilla game colour settings.