UK Local Police Station 1951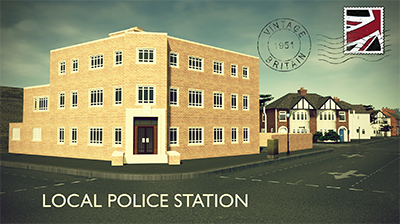 Description:
This model represents a police station typical of the type built in many English towns during the late 1940s and the 1950s. At that time such buildings provided nearly all of the capability for the local police sub-division. This would usually have covered a small urban area, surrounding countryside and villages. The building would therefore have included:
A 24 hour public enquiry office accessed from the large door at the front.
A parade room and canteen for uniform shift beat officers on the ground and first floors.
Offices for plain clothes CID and senior officers on the first floor.
A charge room and a number of detention cells (reinforced window glass) on the ground floor.
A section house on the second (top) floor where single officers could live.
Many of these stations still exist but, sadly, are now often closed to the general public and serve more as local bases for the deployment of uniform patrol officers. Most other policing tasks are centralised at stations in larger towns and cities.
Model information
Model made from scratch using Blender, Adobe Illustrator and Photoshop. It can be found in the police buildings tab.
Size: 3 x 4 tiles
| Model | Tri count | Texture size |
| --- | --- | --- |
| Main | 1998 | 1024 x 1024 |
| LOD | 120 | 64 x 64 |
Notes
In order to allow vehicles to appear to enter and leave the station realistically the model is provided so the rear of the building with the yard entrance is really the front of the object and must connect to a road.
The model is deliberately sparse in terms of props. This allows anyone to add items that provide a flavour of the time or place of their choice.
The props and buildings in the screenshots above are available on the workshop.
This is based on a particular building. Kudos to anyone can identify it correctly. There is a clue in the model.
Feedback is always appreciated.
Future work
A companion fire station model is in the production queue.