Arrowhead Valley (Official Map)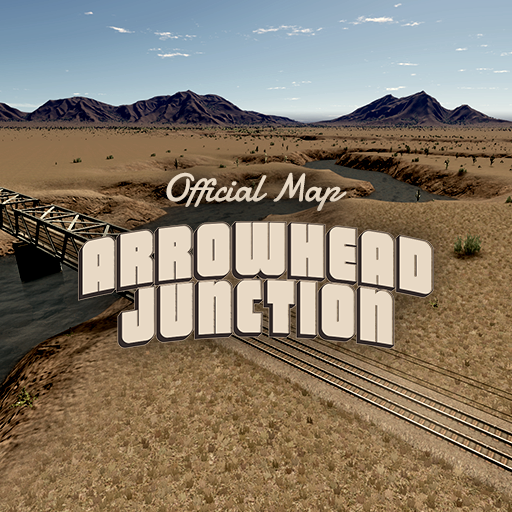 Description:
Arrowhead Valley is a map created for a Cities: Skylines collaboration including myself, Strictoaster, and Freshpopcorn called "Arrowhead Junction". The map is designed to be used with the Arrowhead Valley map theme as well as the "Arrowhead Junction" LUT. This map relies heavily on the textures in the custom map theme in particular, so without these two, the map will look very strange. Arrowhead Valley is a desert/arid map set in a dry empty valley with one lone river flowing through the middle. This map has full airplane/train/traffic connection functionality (minus boat connections, for obvious reasons) but we highly recommend the use of the 81 tile mod for full control over where on the map you'd like to build.
What is Arrowhead Junction?
Arrowhead Junction is a Cities: Skylines collaboration project that aims to bring a new type of series to the city building community. The series features a totally custom map and map theme featuring 100% unique textures and a hand-picked selection of assets and mods from the Steam Workshop, which complement the style of city that is being built. Each player has total control over their respective episodes, but the final outcome is the sum of all three builders efforts. While the basic plans for the region are in place, the endeavor will be completely inspired by each individual's creation per their episodes. We certainly hope you share our enthusiasm for this project!
Arrowhead Valley Map Theme:http://steamcommunity.com/sharedfiles/filedetails/?id=768219242
Arrowhead Junction Collection: http://steamcommunity.com/sharedfiles/filedetails/?id=751408249
YouTube Playlist: https://www.youtube.com/playlist?list=PL6HueNQcC6nfH06ezfP6FBQ0RwFq3NJFE
Fluxtrance – http://youtube.com/fluxtrance
Freshpopcorn – http://youtube.com/freshpopcorn
Strictoaster – http://youtube.com/strictoaster