ULTRAHUB – Ultimate Transport Hub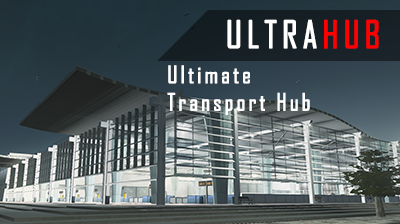 Author:
REV0
Last revision:
17 May at 17:10 2017 UTC
Description:
FULLY MODULAR SUNKEN TRANSPORT HUB
Everything you need for the ultimate transport center.
ULTRAHUB is the fully modular transport hub which combines all available and possible networks under one single project. It aims to deliver different variations (both in style and network) to the end user as modules and let the user create its own unique station.
Phase 1 consists 2 variants of station styles; Open and Wave roofs, along with Bus, Train and Tram networks.
This is the base building of the complex, in order to use modules fully operational you will need to plop this building first.
MODULES ARE IN COLLECTIONS, CHECK ABOVE
**Technical Details – Base Building**
Main Model: ≈4200
LOD Model: ≈1500
**In-game features**
Construction Cost: 90K
Maintenance: 6K
Garbage: 0
Electricity: 30
Water/Sewage: 20/10
Bar on the left is a subbuilding, works as a park with tourist attraction.
Workers: 20/60/14/7
Base building has 4 metro connections in addition to what modules offer.
KNOWN ISSUES
MOM Compatibility
The building is compatible with MOM and I do intend to release MOM module as well after Mass Transit release. It seems enabling MOM causing to reset station stop height to -12m. The default depth is -21m, so set it back if it's case. Thanks rovapasi for pointing it out.
Enable Anarchy to plop modules.
Cims might cross over train track when bus or tram module is located next to it, that's game's pathfinding issue.
Other phases will focus on different styles of the main building, monorail extension and auxiliary buildings for a modern train station.
If you like the asset, don't forget to donate:
*Special thanks to simtropolis community for their feedbacks and help.