Paris Metro (Métropolitain)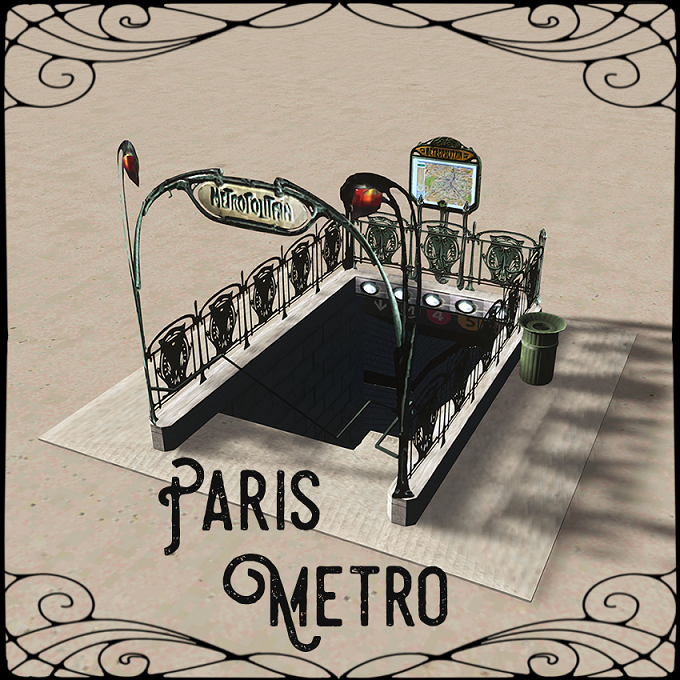 Author:
Gèze
Last revision:
16 Jun at 12:57 2017 UTC
Description:
Informations:
The Paris Metro or Métropolitain (French: Métro de Paris) is a rapid transit system in the Paris Metropolitan Area. A symbol of the city, it is noted for its density within the city limits and its uniform architecture, influenced by Art Nouveau. It is mostly underground and 214 kilometres (133 mi) long. It has 303 stations. It is the second busiest subway system in Europe, after the Moscow Metro, and the tenth-busiest in the world. The first line opened without ceremony on 19 July 1900, during the World's Fair (Exposition Universelle).
Some facts about the entrance itself:
1. It was designed by Hector Guimard in 1899 and uses Art Nouveau style.
2. 141 entrances were constructed between 1900 and 1912, of which 86 still exist.
Additional informations:
Main model: 974 tris
LOD model: 133 tris
Template used: Default metro station; Uses 1×1 tile
Technical: It has upgraded stats of the default metro station (doesn't require water; doesn't generate garbage/sewage; doesn't produce a lot of noise).
Due to the fact that it uses 1×1 tile, sometimes small terrain clipping can occur in the area under the map placed on the fence. I can't do anything about that.
I will be making more stuff, so subscribe to stay updated!
C'est pas le dernier, donc oublie pas de t'abonner pour rester au courant!
Please rate and comment! It helps a lot!