Singapore Flyer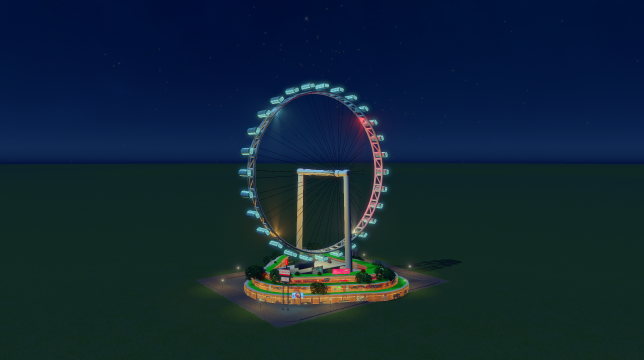 Author:
Book Sun
Last revision:
11 Jun at 05:11 UTC
Description:
Singapore Flyer by Book Sun
A real Ferris Wheel – Flyer in Singapore is available now.
Farewell static dead ferris wheel, now we have a real one!
It rotates on its central axle, which can be a marvelous scenic spot of your modern city!
It's based on the Wind Turbine.
Enjoy it.
Height:150m;
You can find it in Electricity.
The speed of the wheel depends on the wind. Sorry I can't slow it down.
新加坡飞行者 摩天轮来了。
静止的摩天轮再见吧,现在我们有真的摩天轮了。
这款摩天轮是自己会转动的,成为你的城市一道亮丽的风景线。
资产基于 风力涡轮机,所以是会自己发电的。
高度 150米。
在电力栏找到它。
转动速度受风速影响,很抱歉我不能把它减速,游戏限制了。