NYPD Detective 03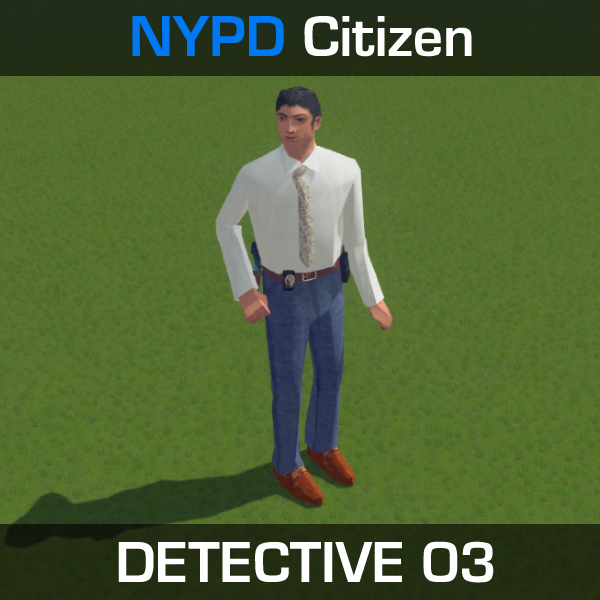 Author:
Exusa
Last revision:
14 Jun at 04:59 2017 UTC
Description:
NYPD Detective 03
This Undercover police officer/ Detective doesn't have a coat so you get to see his pistol and radio.
This detective will appear randomly from a police station.
Tris
Model- 1083 (default police officer has 1096 tris)
Lod- 169 (default police officer has 196 tris)
Texture
Model- 128×256
Lod- 32×64
Credit to Rockstar* for the model
-Notice
The lod does not work for custom citizens. If you zoom out at a certain distance,
the custom citizen disappear but the vanilla citizens are still viewable. Also
there are no options to adjust the color of the model for citizens (custom buildings has this feature)
which is why I made the color map black so the citizen does not appear in different shades of color(blue,red,green, etc.).
Hopefully Paradox sort this issue out but I'm probably doing something wrong.
-How did I import a custom citizen?
This asset was made in 3dsmax.
I followed the Skylines Wiki and used the template skeletons found in
Cities_Skylines/Files/Templates/
I imported the model I want to use then I adjusted the model to match the template.
I reset the scale of the model and I applied the skin modifier to the model.
The bones from the template were added to the skin. Then I applied the weights to model and finally I exported it to an FBX file.
I know this is not a good guide but I just learned how to apply the bones to the skin and I'm still practicing. I'm sure someone with
experience rigging models could do a better job.