Berlin Hauptbahnhof (Berlin Central Station)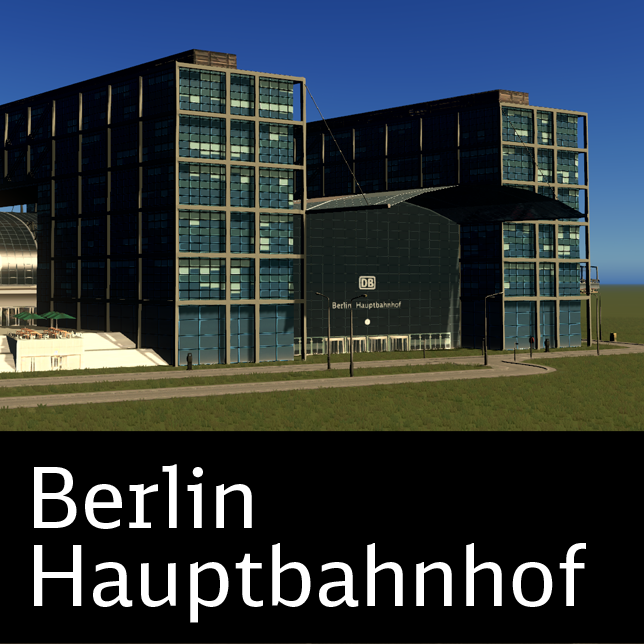 Description:
UPDATE 2016-07-27
Fixed dependency to Metro Overhaul Mod (MOM), can be used with and without MOM now
UPDATE 2016-07-26
This is version 2 of the asset. I've changed/fixed the following items:
#1 road access is now needed like for vanilla stations, this fixes the issue reported in the comments
#2 the asset footprint is now tailored to the buildings structures as close as possible, therefore the asset was also rotated a little
#3 removed all roads inside the asset to make it easier to use, so no more Network Extensions 2 needed
#4 misplaced interior panel is fixed
#5 outer subbuildings now with BuildingAI
#6 now with 12 subbuildings instead of 9
#7 metro station is now an own subbuilding (thanks BloodyPenguin), fixes "line selection tool always snaps into the subway" that was reported by some users
UPDATE 2016-06-24
Should work with Metro Overhaul Mod (MOM) now
—————————————————————————————————————————————
First of all, this is my first ever asset and it took me 6 months and over 200 hours to complete. Along the way, I've learned how to do 3d modeling, texturing and bringing things together in the asset editor. So, if you have a dream to build something that is not yet in Cities Skylines, it can be done!
Berlin Hauptbahnhof is the most important passenger train station in Berlin and also the largest tower station in Europe. With more than 300,000 travelers each day, it's number four of the most frequently used long distance stations of Deutsche Bahn, right after Hamburg, Munich and Frankfurt (Main).
The crossing station with 14 platform tracks is a transfer point between passenger long-distance (Intercity-Express, Intercity/EuroCity, HBX, EuroNight) and short-distance (S-Bahn, Regionalbahn, Regional-Express) transport.
The connection to the Berlin underground through the station with the same name, which is currently the endpoint of line U55 to Brandenburg Gate, will be the western extension of U5 to Alexanderplatz when becoming operational as planned in 2019. More connections to public transport are available in front of the station with inner city bus, as well as tram services (line M5, M8 and M10).
The striking building was designed by architect Meinhard von Gerkan. Together with the station, a new north-south train path through the north-south long distance train service tunnel was put into operation on 28th May 2006, resulting in a complete conversion and reorganization of passenger train travel in Berlin following the so called "Pilzkonzept" (mushroom concept).
Source: https://en.wikipedia.org/wiki/Berlin_Hauptbahnhof
Warning
– Make sure to flatten the whole terrain under the station (I recommend Extra Landscaping Tools,
https://steamcommunity.com/sharedfiles/filedetails/?id=502750307)
– The elevated station stops are located in the long part of the tube structure, next to the DB tower
Model stats
– Total for Main Models: 12,513 tris with 2x 2048×2048, 1x 512×512 and 1x 128×128 textures
– Total for LOD models: 207 tris with 2x 512×512 and 1x 128×128 and 1x 32×32 textures
– Textures are always (Diffuse, Illumination, Normal, Specular)
Main features
For Regional, Intercity Express, Intercity, Local and Berlin S-Bahn services:
– 4 elevated double tracks running east-west direction
– 4 underground double tracks running north-south direction
For Berlin U-Bahn services:
– 1 subway double track (U55)
Game basics
– 9 subbuildings, no road connection needed
– 12 subbuildings, road connection needed
– 1:1 size of the real building
– Lot size is 45×27 units (360 m x 216 m)
– Found under Transport > Train
– Costs $500,000 to build
– Upkeep is $960 per week
– Track height is 12m
– Note: interior is not modeled, remember this is my very first asset
I want to thank SvenBerlin, AmiPolizeiFunk, BoldlyBuilding, Boformer, Tim the Terrible, Ronyx69, Jerenable and the one and only BloodyPenguin for your tutorials, your help and for spending so much time for something other people can have fun with.
Thanks for subscribing! Any comments are appreciated.