Vieux château d'eau – FRENCH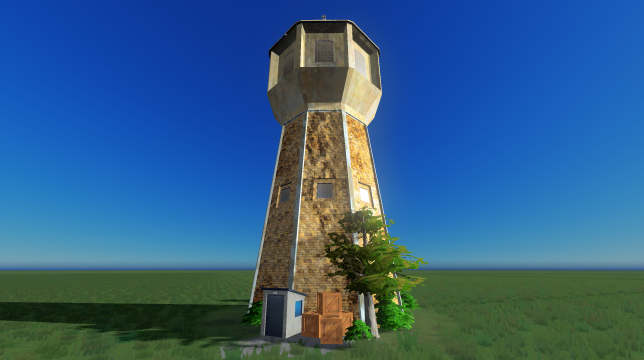 Description:
Original Mod and Model entirely custom made with Blender3D by
Gandalf-is-total-bro
all credits goes to him.
Mod
'Old Water Tower'
.
Brightness tweak, little fix to get the asset sorted in right "Water&Sewage" panel.
Cosmetics changes and balanced to keep a normal game without exagerate stat's assests, french in game description.
=====================================================================
Modèle original entièrement réalisé sous Blender3D par Gandalf-is-total-bro. Merci à lui.
Mod 'Old Water Tower'.
Vieux château d'eau – FRENCH
Taille du Lot. 3×3 circulaire.
Description en français. Luminosité texture réduite.
Compatible Snowfall et petit correctif pour le faire apparaitre dans la bonne catégorie "Eau & Egoûts".
Un vieux château d'eau donc. Produit un peu plus d'eau tout en étant plus silencieux (émission bruit, intensité et rayon) pour un coût d'entretien légèrement plus élevé et consommant aussi un peu plus d'électricité.
Les stats restent équilibrées par rapport au jeu.
STATISTIQUES :
(Stats du chateau d'eau classique entre parenthèses pour ordre d'idée)
Prix = 7 600 $ (3 500)
Prix/semaine = 300 $ (240, x1.25)
Eau Production = 72 000 m3 (60 0000, x1,2)
Electricité Conso. = 320 Mw (240, ~x1,333)
Feu Danger = 1 (0)
Feu Tolerance = 25 (20)
Pollution sonore = 10 (25)
Pollution son. Rayon = 25 (50)
Intensité acoustique = 75 (100)
Description : "Cette antiquité a au moins le mérite d'être plus fiable et moins bruyante malgré ses besoins d'entretien plus importants."
/! Petit bug connu /! Si vous construisez le château sur une ligne de canalisation déjà existante il ne fonctionnera pas, reconnectez les canalisations ou alors construisez le d'abord puis ensuite connectez bien les cannalisations au château (mise en surbrillance du château).
Retrouvez ses grand frêres ici :