Ancien château d'eau – FRENCH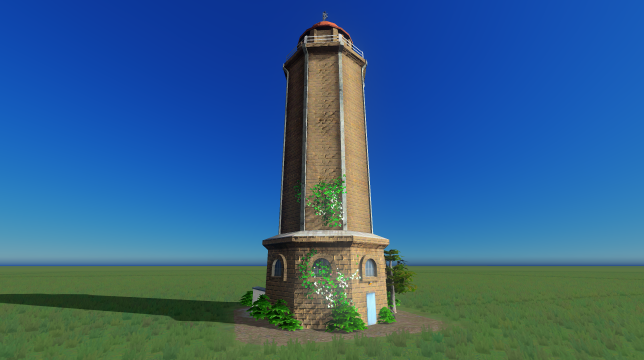 Description:
Original Mod and Model entirely custom made with Blender3D by
Gandalf-is-total-bro
all credits goes to him.
Mod
'Old Water Tower 2'
.
Cosmetics changes and balanced to keep a normal game without exagerate stat's assests, french in game description.
=====================================================================
Modèle original entièrement réalisé sous Blender3D par Gandalf-is-total-bro. Merci à lui.
Mod 'Old Water Tower 2'.
Ancien château d'eau – FRENCH
Taille du Lot. 2×2 circulaire.
Description en français.
Compatible Snowfall et ajout de lumières -discrètes- pour After Dark.
Les stats restent très équilibrées par rapport au jeu.
Mis à jour pour apparaitre dans la bonne catégorie "Eau & Egoûts".
Ce vieux garçon dispose d'un systême archaique qui coûte très cher à la construction et nécéssite plus de maintenance mais il garantit une pollution sonore contenue tout en offrant un réservoir plus important et une architecture compacte.
NB : pour avoir le lierre grimpant (facultatif) il faut s'abonner à 'Wall ivy 1'.
STATISTIQUES :
(Stats du chateau d'eau classique entre parenthèses pour ordre d'idée)
Prix = 16 200 $ (3500)
Prix/semaine = 360 $ (240, x1.5)
Eau Production = 84 000 m3 (60 0000, x1,4)
Electricité Conso. = 336 Mw (240, x1,4)
Feu Danger = 1 (0)
Feu Tolerance = 25 (20)
Pollution sonore = 15 (25)
Pollution son. Rayon = 15 (50)
Intensité acoustique = 65 (100)
Description : "L'ancien en a encore sous la pompe ! Efficace, compact et peu bruyant mais à la maintenance un peu plus onéreux."
/! Petit bug connu /! Si vous construisez le château sur une ligne de canalisation déjà existante il ne fonctionnera pas, reconnectez les canalisations ou alors construisez le d'abord puis ensuite connectez bien les cannalisations au château (mise en surbrillance du château).
Retrouvez ses compères ici :
'Vieux Château d'eau'.
'Grand Château d'eau'.