Tatra Mountains Terrain Theme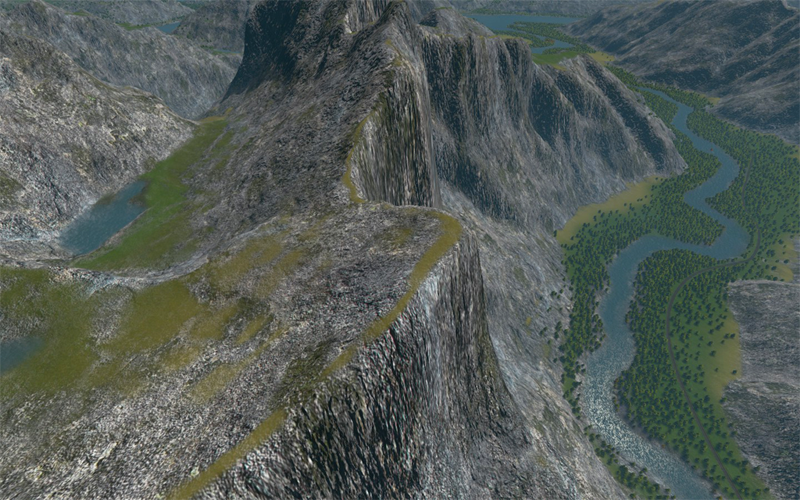 Description:
Tatra Mountains is an alpine-type mountain range spreading along the border between Poland and Slovakia. They are smaller than Austrian or Swiss Alps, but their landscape is very rich and diversified.
Some information about Tatra Mountains: http://www.poland.travel/en/highlights/tatra-mountains
I hope this terrain theme will be also good for representing other alpine-type mountains.
I used resource textures to create visual effect similarly as in my Basalt Rock Terrain Theme.
– Fertile land looks much brighter than grass and looks good on high altitude, above the forest level;
– Oil texture can be used to create alpine meadows with wildflowers;
– Ore texture can be combined with grass or fertile land to create various yellowish and olive tones which can be seen in high mountains;
– Sand texture is made of stones, which enables making rocky river- and seasides and scree slopes in mountainous terrain.
I used grass and gravel textures made by Mr Miyagi (Southwest Redrock Terrain Textures set) – thank you very much, I love your work! 🙂
WaterNormal and clifSandNormal are made by TPB, oil, ore and sand texture (and also config settings) are my creation.
Because oil and ore textures were used by me to create visual effects, it can happen they will look inapropriate on various maps downloaded from Steam Workshop – these resources were probably placed by the map author in another way. In this case, If you still want to use this terrain theme, you should remove existing resources from places they look inapropriate and place them on areas where they will look better 🙂
I didn't use any particular LUT during creation process, but I know some players prefer Daylight Classic – so I added a few pictures to show how this terrain theme looks with this mod. Maybe it will be good for somebody, maybe not – it looks very interesting in some aspects, but personally I prefer the original version 🙂
The mod folder name (in the Steam/steammaps/workshop/content folder) is 612385904. If you don't want to use any of my textures, you can go there and replace it by your favourite one. You can also modify settings (fertile land offset, water color – it was changed only a bit) in the config file or in the Terrain Themes Creator mod.
The map showed on pictures is Hovde's Rauma – the same as I used to show the Basalt Rock Terrain Theme. Thank you Hovde for creating so beautiful map!
The dependency for this terrain theme is Terrain Theme Mod made by TPB, thanks a lot mate for your advices and help!
I will be very grateful for any comments or advices, I'm still learning this game 🙂