Starbucks Coffee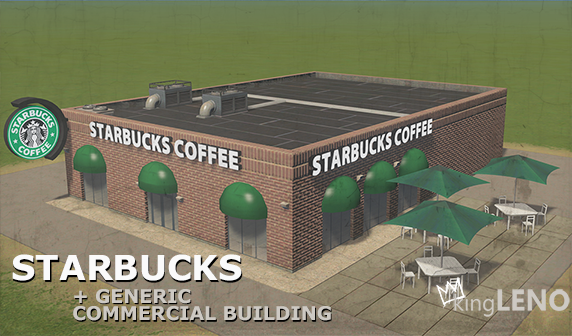 Author:
KingLeno
Last revision:
6 Jul at 13:19 2017 UTC
Description:
Starbucks Coffee by KingLeno
Because there can never be enough Starbucks on the workshop! This building was created as a stand alone building, but can be clipped together to make a shopping center. Included in this asset is a General Commercial Building which is the same building without tables and Starbucks logos + color variations.
For a mirror of this building, subscribe to the AT&T Store.
To see this asset in-game, check out the video above or just click here!
Level 2 Low Density Commercial with RICO settings
Lot size: 3×4; 4×4
Triangles: 605
Texture: 512×512 d,n,s,c
Custom lod and textures
If you like my assets, consider buying me a beer or a cup of coffee to show support and appreciation by making a small donation via PayPal or Patreon.
PayPal[www.paypal.me]
Patreon[www.patreon.com]
And subscribe to my YouTube Channel and follow me on Facebook and Twitter.
KingLeno's YouTube Channel
KingLeno on Facebook
KingLeno on Twitter