Oil Platform / Öl-Bohrinsel (original by Bypass91)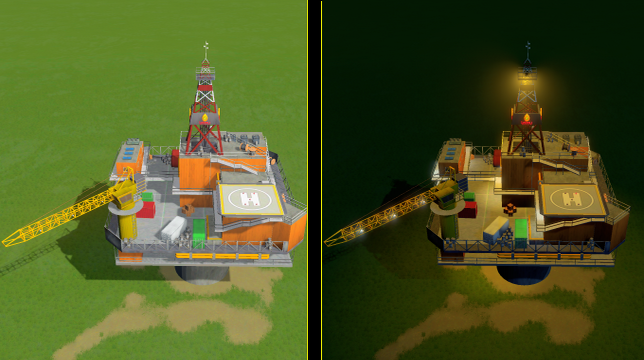 Author:
Elias
Last revision:
22 Dec at 10:57 2015 UTC
Description:
Cost: 48,000€
Upkeep: 800€
Power: up to 104MW –> depends on the wind, because the game treats it as an offshore wind turbine.
—
All the thanks for that object have to go to Bypass91
Here his original oil platform
The platform is based on the Offshore Wind Turbine, so it depends on the wind, how efficient exactly the platform is. Have that in mind!
I only redecorated it a little (by taking away a few props, because i thought that it was to filled up) and changed the stats, so now before using it, you have to make some sort of "moral decision" between green energy and a more efficient but dirty energy source. It's 4 times the cost/maintanance than the wind turbine, but it's about 5 times as efficient.
IMPORTANT: Bypass91 doesn't want his building to be changed and uploaded by anyone, so we should accept that. He gave me his permission.
—
Der Dank für das Modell geht an Bypass91
Hier die original Öl-Bohrinsel
Die Bohrinsel basiert auf der fortschrittlichen Windturbine, weshalb die Stromerzeugung von der Windstärke abhängt. Behaltet das im Auge, auch wenn es natürlich unrealistisch ist.
Ich habe die Bohrinsel nur ein wenig umdekoriert (ein paar Props weggenommen, da sie mir etwas zu überladen war) und die Werte so verändert, dass ihr eine Art moralische Entscheidung treffen müsst, wenn ihr sie baut. Sie kostet 4 mal so viel wie die Windturbine, ist aber etwa 5 mal so effizient. Die Verschmutzung ist moderat gehalten und ich weiß ehrlich gesagt nicht, wie sich das überhaupt auf dem Wasser auswirkt. Jedenfalls ist die Öl-Bohrinsel eine echte Alternative zur grünen Energie, die Skylines so stark dominiert und sieht dabei auch echt cool aus.
WICHTIG: Bypass91 will nicht, dass sein Objekt einfach so verändert und im Workshop verbreitet wird. Ich hatte ihn vorher um Erlaubnis gebeten.