Futuristic Town University CC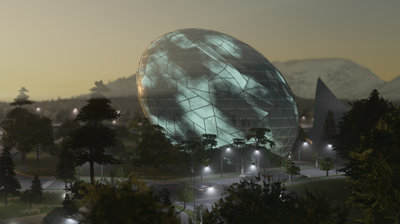 Author:
CushyCrux
Last revision:
7 Jul at 14:48 UTC
Description:
Futuristic Town University CC
Because the Future is Green and Artist create Art. Please vote or write or a comment if you like. And don't forget to download my other buildings, trees and stuff. You can see alot of them in the screenshots of this release.
3727 Polys
6967 Tris
3957 Verts
2048 Texture Maps (inkl. baked AO and GI!)
Custom Fixed LOD with 240 polys, no normal map needed.
InGame Stats:
10×10
Construction Cost: 75000
Maintenance Cost: ~1900/Week)
Radius 2500
Student Count: 15000
Accumulation 150
Workers:
UnEdu: 0
Edu: 26
WellEdu:120
HighEdu: 20
Accumulation 150
My Workshop Stuff
http://steamcommunity.com/profiles/76561197963488327/myworkshopfiles/?appid=255710
LUT used for Screenshots:
http://steamcommunity.com/sharedfiles/filedetails/?id=627086255
AO for soft Shadows:
http://steamcommunity.com/sharedfiles/filedetails/?id=934825735
Dynamic Resolution for Downsampling AA
http://steamcommunity.com/sharedfiles/filedetails/?id=812713438
And Reshade 3.0