Elevated Parclo (Detroit, Michigan)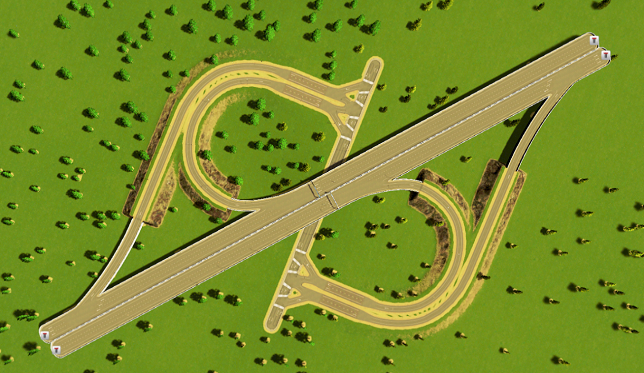 Author:
Pamani
Last revision:
12 Jul at 21:21 2017 UTC
Description:
This service interchange is an elevated parclo (partial cloverleaf) found in Detroit, Michigan.
It connects the interstate I-94 to a 4 lane avenue.
Real life location : https://www.google.fr/maps/place/D%C3%A9troit,+Michigan,+%C3%89tats-Unis/@42.5270474,-82.9114515,16.56z/data=!4m5!3m4!1s0x8824ca0110cb1d75:0x5776864e35b9c4d2!8m2!3d42.331427!4d-83.0457538
This intersection uses roads from the Network Extended mod.
Sharp Junction Angle and Fine Road Tool are needed to place it down.
I also reccomend you configurate the lines as shown in the second using the Traffic President mod.
Thank you for showing interest in my work 😀